Tooky Kavanagh belongs on stage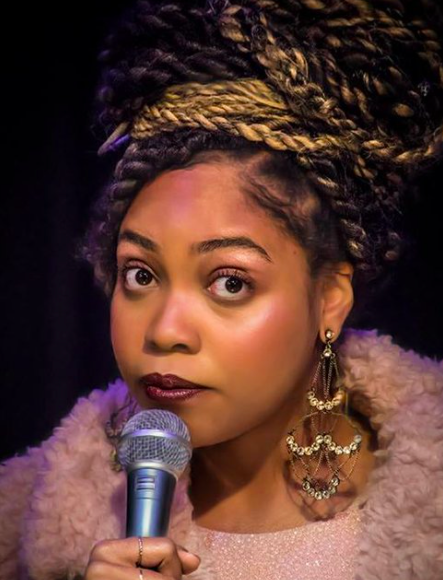 Comedian Tooky Kavanagh cohosts the Loud Women podcast with friend and producer Marissa Emmanuele, hosts The Rehash on 2MBstudios, and cohosts NORM!: The Cheers Podcast on Facebook Live. As an actor, she is a founding cast member of Suzzy, was a regular cast member of the "Redo Crew" for Starstruck: Close Encounters of the Awkward Kind, starred as The Humbled Hobo in a 48 Hour Film Project film, is a featured character in the short film Woman Unknown, and was a recurring character in the web series, Paid For By.  
She can be seen regularly at Boston-based institutions such as The Comedy Studio, ImprovBoston, and Laugh Boston. Also, she's the one who described her own charm as "ineffable," but it's still true!
---
Describe your worst gig.
The host of a show in a Red state brought me up with "This next comic is … very Black."
Favorite response to a heckler or troll?
Some guy in a cowboy hat booed at me when I announced that I got engaged so I said "We can talk about your divorce on the next time, Steve, but this is MY moment."
What were you like as a teen? (Did you have comedy #goals? Were you already funny, or not so much?)
I was (and still am) DEEPLY introverted. I also didn't yet know how to be funny on purpose, but I always knew I'd end up doing something performance/comedy-related with my life.
What's your first impulse when someone says "women aren't funny"?
No, YOU'RE not funny; come up with a less stale take.
When you were coming up in comedy, what helped you stick with it?
Remembering that I have stories to tell and a perspective to share.
Best comedy advice you ever got?
Dress just *slightly* better than the audience. Look like you BELONG on that stage.
Worst comedy advice you ever got?
To keep "politics" out of my comedy – someone like me being onstage (especially in certain contexts) is already a political statement in and of itself.
How has being funny helped you in your offstage life, either recently or when you were younger?
I felt very unseen and unheard for a good portion of my life, so humor has been an effective way for me to get my point across to people who would otherwise ignore someone like me.
Favorite response to "What's it like to be a woman in comedy"? (If applicable.)
Kinda like most mildly toxic, patriarchal workplaces but with no HR.
Was there one person who inspired you to go into comedy? If so: Who, why, how?
My late uncle who, about a month before he passed, told me I have a real "panache" for the craft.
Feelings about the word "comedienne"?
GROSS. Unless we're speaking in a gendered Romance language, delete that word from your vocabulary.
On your deathbed, what transcendent advice would you croak at a young (female/non-binary) comedian?
"All killer, no filler."
What single word always cracks you up?
Crab.