How to survive your first open mic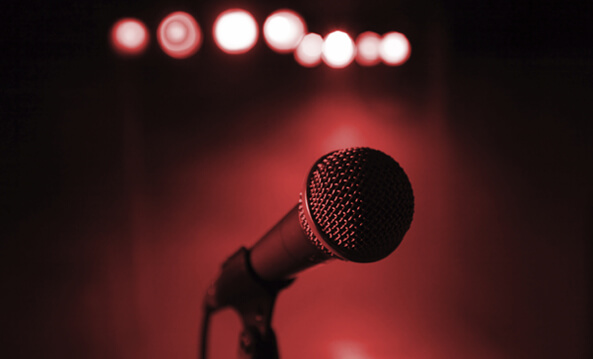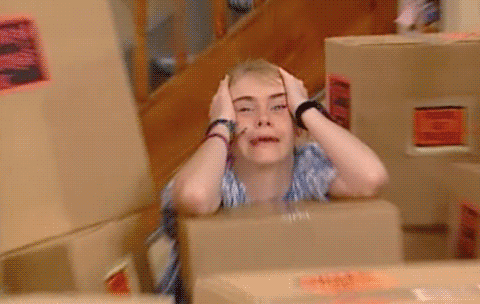 GOLD Comedy is the online comedy destination for women and nonbinary folks! If you're here, you're probably interested in trying standup. Great! You've found your people, here. Check us out in GOLD Club, where we host classes, celeb Q&As, writers' workshops, and so much more. It's community + comedy at its very best. (Plus we host the friendliest open mic around! That's just a bonus!) Standup 101 courses start each month! 
---
My first open mic took place in a basement on a Saturday at 4:30 in the afternoon. My topics included being a grimy "cute" girl, Ariana Grande's donut scandal vs. Bill Cosby's rape accusations, Oedipus, and incest galore! To my utter disbelief, the comics in the room mustered mild chuckles, which to me, felt like George Carlin performing for an audience of 20,000 at Madison Square Garden. Before I knew it, my five minutes were up. The host took the stage after me announcing, "That was your first time? And you went straight into masturbation. Wow." I was on cloud 9.
I've been performing standup for about 13 months now, averaging 12 open mics per week. I can confidently say that I've learned a thing or two about how to survive an open mic.
1.    Attend an open mic to watch.
"Auditing" a mic will help you get a feel for the expectations. You'll see each comic going up one after the other, casually listing off their jokes from notebooks. If you're like me, you'll think, "I can do that! I'm much funnier than guy A, guy B, and ESPECIALLY guy C. I can do it!" It'll give you the deranged self-confidence necessary to be just as unfunny as everyone else.
2.     Prepare your jokes.
Many people attend open mics thinking they'll speak off the cuff, which is a mistake. Perhaps you're quick witted, but wit runs out of gas real fast when there is no arc to what you're saying. Additionally, if you're new to public speaking, you don't know how you'll react speaking in front of a room of strangers, especially if your joke bombs. To avoid freezing up, it's best to prepare material.
Don't know where to start? Free write and pick a few ideas to hone in on. For my first time, I found it helpful to bounce my ideas off of other people. If your closest friends look at you like an extraterrestrial creature, it might not connect with a room full of strangers.
Remember, you can bring your notes on stage. Whenever I'm working out new material, I'll bring up a set list of keywords. The words jog my memory so I don't end up reading my jokes off the page and disengaging from the room.
3.     Find out how the mic runs.
Do you need to sign up in advance? If so, when does the sign up period begin? Does the mic cap the amount of performers? Do you need to pay to perform? How many minutes will you get? At what point will the host light you (letting you know how much time you have left) and from where in the room?
I once tried to get on an open mic in Australia, but when I got there 40 minutes early, they told me I had to sign up a week in advance. This is abnormal for New York, but it might be how it's done in your city.
You can find open mics in your city via badslava or freemics.
4.     Record yourself.
It won't help you get through your first open mic, but it'll serve as a memento and a reminder of how much you've grown (down the line). Moving forward, it's important to record your sets in order to understand where your jokes went right or wrong and what you can improve upon. Like many comedians, I record every set on the voice memos app on my phone.  
5.     Move the mic stand.
If you choose to take the mic out of the stand, it's best to move it to the side or behind you. To see a mic stand in front of a performer is a barrier and a distraction. Not only does it serve as a visual irritant to onlookers, but it makes you, the performer, seem cagey. The stand prevents you from physically engaging with the room.
If you're a real silly billy, you'll leave the mic in the stand and pick the whole damn thing up because you're a rebel and no one can tell you what to do!
6.   Keep the mic at your chin.
When I first started, I had a bad habit of waving the mic around as I was speaking. If you're waving the mic around, no one can hear your funnies, and more importantly, no one will laugh. Keep the mic at chin level and a few inches away from your face. If you're yelling, pull that mic away so that everyone in the room doesn't hate you from permanently damaging their eardrums…unless you're a cool bad boy/girl who's into that sort of thing, in which case, do you.
7.   Tell everyone it's your first open mic.
Most open mic-ers tune out if they don't recognize you. For the sake of your self-esteem, you're going to want people to look up from their phones and listen. When you mention it's your first time, people will be generally supportive, curious, and excited to hear what you have to say. Why? Because everybody remembers their own first time.
8.     Know it's normal to be afraid.
It took me TWO years to find the courage to attend my first open mic. At 21, I drunkenly announced my big dreams of being the next Chelsea Peretti to a working stand-up comedian (I have no regrets), but it took some growing up for me to overcome my most paralyzing fear: public speaking. The fear never went away. In fact, I had nervous diarrhea leading up to my first open mic and spent the following twenty to forty mics dry-heaving and hiding in the bathroom until they called my name. What changed at 23, as opposed to 21, was that I decided I wasn't going to let phobias dictate my life choices. Don't let them dictate yours!
9. SURPRISE, none of my advice matters.
At the end of the day, no tips or tricks about how to perform will guarantee 100% success. What's most important is getting on stage and speaking, over and over again, no matter what. That is how you become a comedian.
So go forth! Be funny!
BLAIR DAWSON (intern, workshops) is a standup comic and improvisor who produces and co-hosts a monthly storytelling and stand-up show sponsored by Babeland called  "U Up?" @UrGirlBlair