Shivani Dave has some mettle!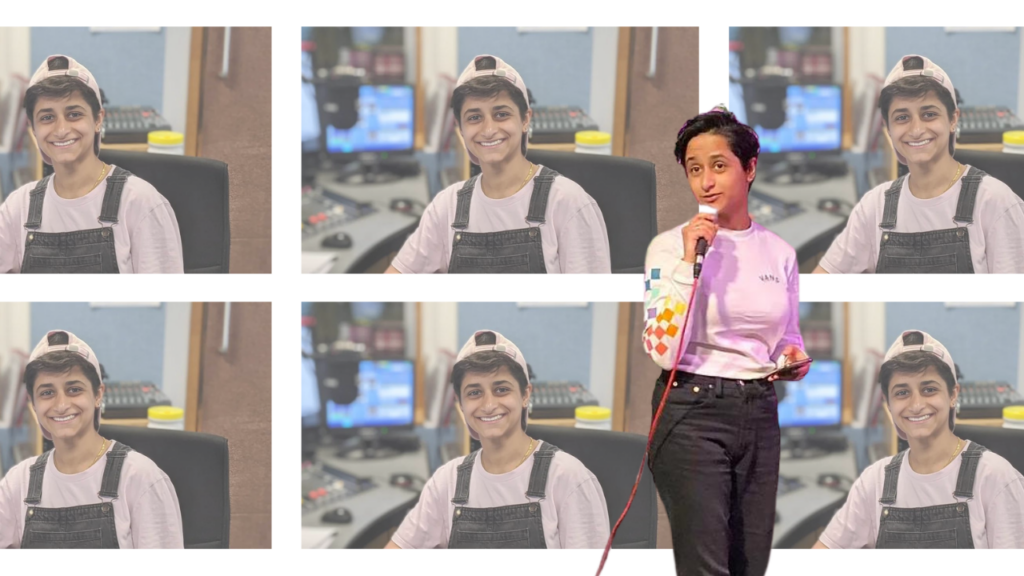 Shivani is a journalist, broadcaster, and physicist (and gen Z – because apparently, people care about that)
They provide a youth audience with impartial news for a world that isn't via @OpenlyNews on TikTok for the Thompson Reuters Foundation. This channel focuses on LGBTQ+ issues around the world.
On the weekends, Shivani brings you the music to kick back to, on Virgin Radio Chilled.
They are also a producer for the award-winning, independent LGBTQ+ history podcast, The Log Books and they have since gone on to set up an audio production company focused on sharing untold stories.
Shivani is in the Radio Academy's 30 under 30, the Attitude 101 Honours list, a British LGBT+ Award 'Top 10 Broadcaster' of 2022, and shortlisted as a British Podcast Award 'Rising Star'.
---
What were you like as a teen? 
I was socially awkward, independent, and often mistaken for a scrawny little Indian boy. I loved playing sports, including being a competitive tennis player. I did watch a lot of Seinfeld with my Dad, and although I didn't know I wanted to be a comic, I've come to realize how similar competitive sports and comedy are.
Did you have an un-sexy starter job?
Yes. My starter job was in finance, at Johnson & Johnson. It didn't help me get the COVID vaccine any sooner, but it did provide priceless corporate comedic material.
When you were coming up in comedy, what helped you stick with it?
I love finding and obsessing over the unique angles when crafting new jokes and seeing how it resonates with an audience. Oh, and I remind myself I never want to work for another asinine corporate boss again.
Have you ever dealt with trolls? 
Sure. But at the end of the day, if they think they have the chops, they are more than welcome to try the damn thing themselves.
On your deathbed, what transcendent advice would you croak at a young comedian?
Best comedy advice you ever got?
"Do you love this? Do you want to do this every day? If so, then go all in."
Worst comedy advice you ever got?
"Try to bomb". Who is "trying" to bomb?! As a female minority, I don't have that luxury.
How has being funny helped you in your life, either recently or when you were younger?
Comedy and laughter continue to get me through tough times in life. Plus, I like to crack jokes and call people out at the dinner table, now I can do it unapologetically on stage.
What is your go-to show or movie to watch when you have had a bad day? 
Bridesmaids or pretty much anything by Judd Apatow. Chelsea Handler and Larry David are also my spirit animals.
What specific things can a young comic or comedy writer do to shape their voice?
Studying other comedians (stand-ups, writers, screenplays, etc.) helped me learn what I liked/disliked as a starting point. But then have conviction about what and how you want to convey your own comedy.
Was there one person who inspired you to go into comedy?
Personally, my Dad, who always questions the status quo, and growing up was the most entertaining guest at any party. Professionally, Tina Fey, she's a machine with her writing rigor and inspiring comedic mind.
Do you have a writing routine?
Not a strict routine, but obsessive ideation and joke documentation in order to stay as prepared as possible. I try to stay organized, but then inevitably nearly puke before any big show.
What single word always cracks you up?