Sammie James holds grudges and destroys jerks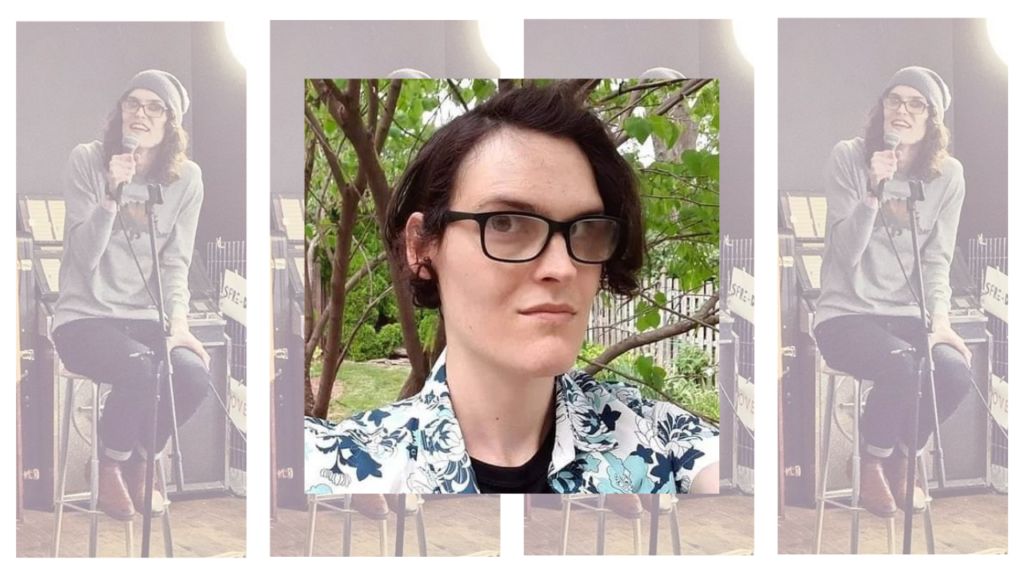 Sammie James is a comedian, actor, writer, and storyteller from New Jersey. She hosts and produces the monthly show The Waiting Room, which showcases health and healthcare-themed comedy. Sammie founded the nonprofit We Are Trans, which runs a weekly interview show Trans Talks, monthly shows featuring trans performers(The Badass Trans Women Of Comedy, and You Matter concert for trans kids and their families), and more. 
Her comedy special "Your Mom Loves Me" is out on Youtube. Sammie has performed all over the country; including past appearances at Cinder Block Comedy Festival, Charm City Comedy Festival, Plano Comedy Festival, Queen City Comedy Festival, Bechdel Test Fest, Speak Up Rise Up Story Telling Fest, Flappers Comedy Club, Good Good Comedy Theater, Broadway Comedy Club and more. Sammie James is soon to be your favorite disabled, nerdy, butch trans woman in comedy.
---
How has being funny helped you in your offstage life, either recently or when you were younger?
Honestly, my humor has helped with trauma and pain and I honestly credit my sense of humor and being able to laugh at dark painful things as part of why I'm still here. As a kid, I couldn't access it as willingly as I can now, and I struggled. But poking fun at myself or destroying assholes with insults were early defense mechanisms
Favorite response to a heckler or troll?
I mostly just go with "Are you done yet?" or something along those lines. Or respond like I'm talking to a small child. I know I've had some good ones but I honestly just put hecklers out of my mind when I'm done dealing with them.
What were you like as a teen?
I was either very quiet and sad or very loud and active and still sad. I've always been funny with my close friends and I loved being the center of attention at family stuff but I didn't want anyone else to notice me. Standup always looked like something cool to try.
BRIEFLY describe your worst gig.
I did a show once where I was promised pay plus travel and that I would get a ride from the train station to the gig. When I got off the train and called the guy, he said that he had something come up and would reimburse my cab or Lyft. I was paid 30 dollars, not reimbursed, and found out everyone else had been told another time to show up and been picked up and driven back to NYC. I was left to figure out getting home after being told he would drop me back at the station. I was also misgendered in my intro. I could go on and on about that gig.
On your deathbed, what transcendent advice would you croak at a young comedian?
If they won't give you space, make your own space and don't book them.
When you were coming up in comedy, what helped you stick with it?
The encouragement of other queer comedians. Honestly, probably stubbornness and grudge-holding too. Plenty of guys told me I wasn't funny and would never go anywhere and they don't do this anymore, which makes me smile.
Best comedy advice you ever got?
The absolute opposite of what a lot of people say and what I now tell people to this day. Sometimes you need to say no and you need to take breaks. Know your worth and you do not have to grind every single night. Do what works for you.
Worst comedy advice you ever got?
"Don't talk about any of your identities on stage. People don't want to hear about it." From a straight cis white guy who had that as really his only personality trait. (Well that and using the mic to mime masturbating.) See, I hold grudges.
What single word always cracks you up?
Not necessarily crack up, but I love the word banana and sometimes I just say it repeatedly when I'm down and it makes me smile.
Was there one person who inspired you to go into comedy? 
I have a lot of people I look up to and who influenced me. But I struggled with whether I wanted to keep doing this after I came out and transitioned and wasn't sure if I was going to do it again, or what my comedy was. Until I went to a queer women's event and saw Kelly Dunham on stage and was like "Fuck. That's what I want to do. I want to do comedy like that."