[More than] 21 female and non-binary comedians to watch in 2021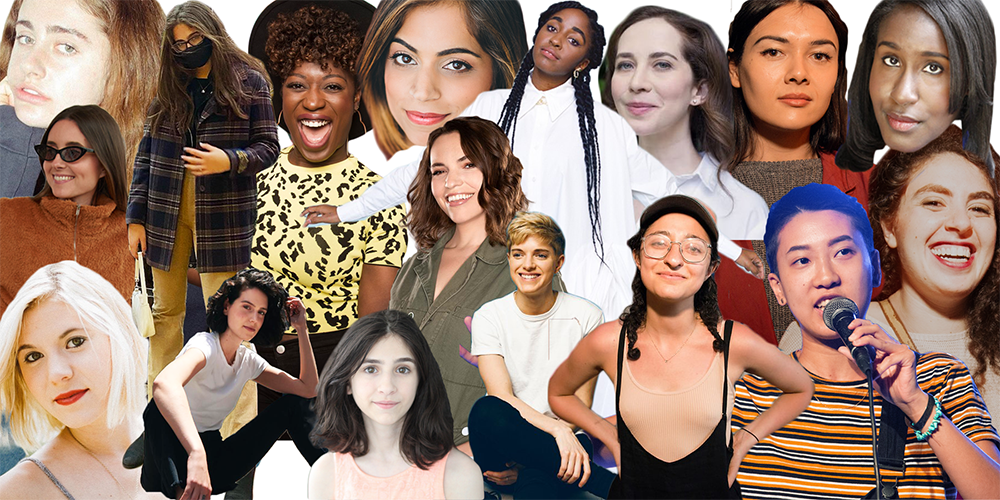 Well, 2020 was NOT GREAT. It was definitely not great for comedians, whose gigs and paychecks went poof in this raging dumpster fire IN a dumpster fire. But somewhere in there, we found things to laugh about (and plenty of time to binge-watch…everything). And comedians like Sarah Cooper and Taylor Tomlinson (and tons more) forged new tools and found platforms for their hilarity and creativity. Like COMEDY DUMPSTER FIRE PHOENIXES, they have RISEN. Here are just 21 of the MANY female and LGBTQ+ comedy performers and producers who used this year to give us a taste of their potential. We can't wait to see what they'll dish out when we've got happier stuff to laugh about.
1. Mae Martin made a name for themself with Feel Good, a semi-autobiographical series about their struggles with love and addiction. The show is an intimate, thoughtful comedy on queer identity, and with Season 2 on the way, we suspect Mae Martin will become a household name.
2. Patti Harrison is pretty much unstoppable at this point. She steals every scene in her role on Hulu's Shrill as Ruthie, Aidy Bryant's asshole co-worker. She's now writing for the funnier and funnier Big Mouth—and she totally steals the…funeral in the Amazon Prime comedy special Yearly Departed.
3. Marcia Belsky is poised to be the next big-name comedy songwriter. Following on the success of her Handmaid's Tale: The Musical (Praise be!), her 100 Tampons has been stuck in our heads since we heard it—and has rocketed (that's a NASA pun) to TikTok lipsync stardom.
4/5. Rachel Sennott and Ayo Edebiri made clear that they are a force to be reckoned with with their Comedy Central series Ayo and Rachel Are Single. Now, with Ayo stepping in as Sissy on Big Mouth and Rachel starring in Shiva Baby, it's clear that their recent success is only the beginning.
6. Naomi Ekperigin (who talked to GOLD here!) brought her hilarious old soul (she enjoys "a fleece pant" and a procedural) to the novel coronavirus moment with her podcast Couples Therapy (co-hosted with her husband, Andy Beckerman). An in-demand TV writer and podcast guest herself, she brings that Ekperigin energy everywhere, and we can't get enough.
7. Bess Kalb was head writer on Yearly Departed (which, unlike 2020, we want to relive daily), with other credits including Jimmy Kimmel Live! and The New Yorker. Check out her new book Nobody Will Tell You This But Me, a hilarious memoir tracing four female generations of her family.
8. Kerry Coddett (who talked to GOLD here!) isn't afraid to tackle tough questions on her podcast On the Chopping Block, in which she hashes out cancel culture with fellow comics and celebrities. You may have seen her on HBO's Crashing or Iliza Schlesinger's Sketch Show, and we know you'll see more of—and love—her in 2021.
9. Beth Stelling tells it like it is in Girl Daddy, her new special on HBO Max about being a woman in 2020 (which we suspect will also be relevant in 2021). Her sharp, honest sense of humor makes her the friend we all need to help us get through it all.
10. Maeve Press (who talked to GOLD here!) nailed a breakout role in Freeform's hilarious and moving gem Everything's Gonna Be Okay, but she's also an accomplished standup veteran. Did we mention she's only SEVENTEEN? This gal is definitely going places.
11. Jes Tom (who talked to GOLD here and who has helped teach our classes + hosted our live shows!) has shared the stage with standup comedians like Awkwafina, Aparna Nancherla, and Rosie O'Donnell. Their ultra-vulnerable special COLD BREW is a required viewing, especially for any queer folks dealing with heart break.
12. Shaina Feinberg is the writer/director behind the webseries Dinette, which the New Yorker's Emily Nussbaum called "a gem"—and which left us dying to spend more time with its warmly/sharply bantering gang of women/non-binary folks. Season 2 is on the way, so yay—and while you wait, watch Senior Escort Service, Shaina's offbeat elegy for her dad, and (pre)order her book Every Body: An Honest and Open Look at Sex from Every Angle (Jan 2021).
13. Rakhee Morzaria has her roots in sketch comedy and improv and has been featured on shows like Beaverton and What We Do in the Shadows (oh how we love that show). Note to Self, her web series about being a second-generation Canadian, is the perfect binge for anyone craving some millennial humor.
14. Zainab Johnson is featured on Upload on Amazon Prime and 100 Humans on Netflix. Her goofy standup comedy showcases her unique perspective as the youngest of 13 kids from a Muslim family.
15. Sudi Green is the master of making her followers laugh in 200 characters or less. A writer for Shrill and SNL, she is in prime position to break out on her own in 2021.
16. Teresa Lee has been crowned queen of socially-distanced comedy as co-host of Comedy Quarantine on Instagram. The world needs her innovative spirit to keep things interesting in this seemingly endless corona-cation.
17. Mitra Jouhari shines in Three Busy Debras, her irreverent sketch comedy show on Adult Swim about three rich friends in suburbia. You can also find her handiwork in Big Mouth and High Maintenance.
18. Eva Victor posts hilarious front-facing videos all over the Internet. If you love to make fun of straight people, Eva is the comic for you.
19. Mary Beth Barone (who talked to GOLD here!) knows exactly how to bring out the funny of her 20-something life in NYC. Her live comedy show, Drag His Ass, is a treat for anyone looking to laugh about f*ckboy culture.
20. Shalewa Sharpe has been making people laugh for years now in comedy clubs from Atlanta to NYC. Right now, you can get a taste of her everyday humor on her ultra-active social media. (We love her Taste Testin' videos best of all.)
21. Hannah Pilkes slays social media with her character acting, morphing from Cindy Lou Who to the woman over-confidently getting into the hotel hot tub with ease. If you love My Favorite Murder, give her podcast Murdergram some love.
Bonus round
We don't want to sound biased, but there are so many comedians to watch who are part of the GOLD fam!
Sophie Zucker steals the show in Apple TV's Dickinson. She always leaves us laughing, whether she's acting on the silver screen, performing with the ever-funny sketch comedy group Ladies Who Ranch, starring in a self-written musical—or hosting an open mic in the GOLD club. (Back in the day, she was a GOLD live class TA!)
Avery Lender has been doing standup for eight years, and she is ONLY NINETEEN. She started her own satire magazine in high school and is now one of the youngest-ever editors at B.U.'s The Bunion. (She also TA'd our good old fashioned live classes! Without a mask, even!)
Emmie Young-Kershaw is also an experienced standup at just 18, with comedy credits including Mohegan Sun and unhinged impressions of irritating customers she's served at the ice cream stand. She's both on her way to study comedy at Columbia College of Chicago and…on her WAY.
Tessa Abedon has a growing YouTube channel filled with self-deprecating satirical videos. Watch her latest videos, "HireMe" and "My Final Animation which I did turn in for a grade," for some quick laughs in under five minutes. And then hire her.
Did we leave someone off the list? Let us know @goldcomedy!