How to land your dream comedy internship (I did!)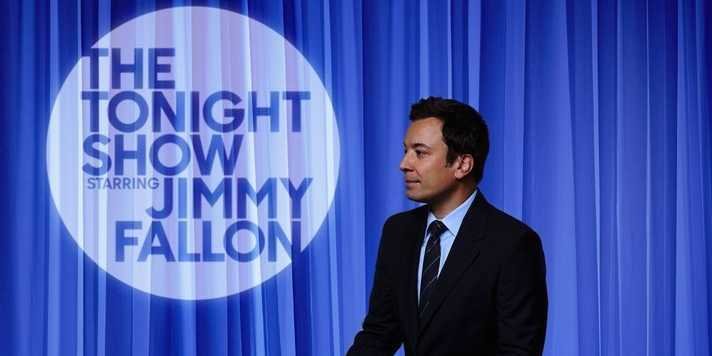 Hi hello! I'm Emily Pasqua. I was an intern for the Spring 2018 semester at The Tonight Show Starring Jimmy Fallon and, before that, an intern at Last Week Tonight with John Oliver. Now, I'm a 23-year-old graduate of SUNY Purchase who still can't quite believe I was part of these amazing late-night teams.
Before we dive into the entree, here are some appetizer tips for landing your dream internship:
Don't sell yourself short

; internships help you gain experience and if you don't have much experience under your belt already, use your passion for comedy/television to your advantage!

Seek out resources

that'll help you get a move on the application process. This includes LinkedIn, campus career centers and even your friends and family. You'll be surprised to know that Aunt Jill knows a guy who knows a guy that can put in a good word for you.

Don't worry if it doesn't work out at first.

Be like Ariana Grande and say "Thank u, next." Keep being persistent.
Ok, now back to the main course. I grew up watching Lucille Ball, a comedy queen, in reruns on early-evening television. With this electronic tutelage, I knew exactly what I wanted to do at an early age. There was just one tiny problem: You can't be a comedy queen if you can't perform on a stage in front of many, many people. I had chutzpah for days — just not the kind that I needed to perform on stage in front of crowds.
I tried the improv club whilst at Purchase, but saying "yes, and" led me to nope so hard out of that club. I still wasn't thrilled about performing every week in front of people, due to this this little thing called crippling anxiety. While it was telling me I wasn't good enough to pursue my true passions, it also led me to study psychology in college. The problem with that was that studying the human brain's reasons for anxiety gave me — you guessed it — more crippling anxiety.
The turning point for me was when I enrolled in a media studies course aptly named "A Critical Look at Television." That class, and my professor in particular, rekindled my love of television and comedy. It was clear that while I would never manage to memorize the formula for serial dilutions in microbiology, I was perfectly able to internalize the (very real) formulas that make sitcoms work. You know, like:
funny characters+ situational happenstancechance of dramahilaritysaucy flair = your typical sitcom
What's actually fun about this type of "science" is that the formulas are controlled by you, and whatever the outcome may be is your own diabolical, yet insanely beautiful creation!
Here's a fun media-studies fact: Did you know that Lucille Ball was one of the first women in television to own her own production studios? She took over the Desilu name after ditching her tumultuous marriage to the skirt-chasing Desi Arnaz. She wasn't only a performer, she was also a bona fide Boss-Ass Bitch. From this, I reasoned that if I wanted to excel in comedy and television, I didn't have to perform.
I'm going to let you in on a little secret: There are plenty of jobs in television other than acting. And landing a production internship is an amazing way to find out about all of them.
Oh. Did you just get a cold shiver going up your spine? That's just your crippling anxiety telling you that you don't have the experience, contacts, or chutzpah to land an internship. Nothing that a little wisdom from a complete stranger can't fix! I'm going to tell you how I did it, and believe me — I'm just as cripplingly anxious as you are. Read on and learn.
Lesson 1: Don't ignore your campus-wide emails.
There it was, amidst a flood of other emails I may or may not have been willing to look over: The three-time Emmy winning show Last Week Tonight with John Oliver was seeking applicants for their production internship. I applied without a second thought and within a few weeks, I scheduled an interview.
This, of course, meant that our old friend crippling anxiety pretty much moved into my dorm room. I was anticipating the worst, and already thinking about my plan b. Nothing had even happened yet!
Let's talk about interviews. I hadn't been on any as important as this one before, and all my preconceived notions led me to expect something like Detective Benson from Law and Order: SVU drilling me with questions into the night. Turns out interviews are just … conversations. At least, this one was — a long and magnificent one that went more smoothly than I could have imagined. Which leads me to —
Lesson 2: If you're passionate about the position you're interviewing for, it'll show.
That's what interviewers are looking for. So walk into the room knowing that you're the best woman for the job, and let your enthusiasm do the rest. Nerd out if you want to! I distinctly remember going into a rant and rave over my favorite TV shows like 30 Rock and I Love Lucy, but just when I thought I was going way in over my head, turns out my interviewer shared some of the exact same sentiments. It was so refreshing and exhilarating, in that moment I was as optimistic as I'd ever been.
Lesson 3: don't be afraid to reach out to potential employers for an informational interview.
This means you want to meet them just to talk about their workplace or line of work, not for any specific job. You don't have expectations other than information-gathering. They are a great way to meet face-to-face, build a connection, and ask a lot of questions. You're not being annoying, I promise! Employers get to see your personality in action, something a resume can't provide.
How does one ask for an informational? Simple. "I'm interested in XYZ; when you have a chance can we have a chat about XYZ?" BOOM! You did the thing! I had my informational with my supervisor at Last Week Tonight to thank her for a shot at another dream come true. We had talked about my career aspirations, my interests and what I've taken from this internship. When The Tonight Show Starring Jimmy Fallon was seeking applicants for their internship, she told me about it. I jumped on that chance so fast.
I walked in with the same underlying anxieties that I did when I interviewed for LWT, but this time, I was beaming with a newfound confidence. I knew I had what it took to be a part of this late-night team. In the interview, I was asked, "Why late-night television?" I responded with, "I want to be a writer. I want to create content that's fun and unique, and that may even resonate with people." See? It's not rocket science.
It's also a completely subjective answer. If you are ever presented with the same question in an interview, it's okay if you truly have no idea! More times than not, I've found that being honest with yourself in regards to your career aspirations is a totally valid answer. It's okay to not be sure of yourself. That leads us right into –
Lesson 4: Have fortitude! Potential employers admire honesty.
I had spent weeks deliberating on what I was going to possibly do next if all didn't work out. Anxiety truly is a funny little friend. I was at the wrap party for LWT when I got the call offering me a position as a writer's intern with The Tonight Show Starring Jimmy Fallon. One dream internship was coming to a close, and the door to another one was opening up.
John Oliver and Jimmy Fallon are just some dudes on TV. Yes, applying for their internships can be daunting, but it all comes down to you. Who are you? Why do you stand out amongst the bazillion other applicants trying to snag the same seat as you? Make sure you remember what your true passions are. They may come to you in school, or they may come out of the clear blue sky. Most importantly, remember you will doubt yourself at every moment when applying to internships — or any job, for that matter. You'll always feel this ounce of inadequacy, but I can for sure tell you that as a human being, there is nothing more admirable than honesty. A dream internship becomes a reality when you take those doubts and insecurities and turn them into creative content. Throw your ego out the window, because the more passionate and authentic you are, the more likely you will land that desired internship!
---