Help! How do I stop eating meat? #AskAvery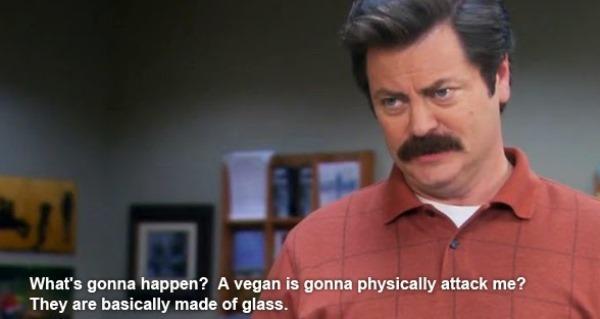 Meet Avery. She has 8 years experience as a comedian and 7 years experience as a teenager—and she is here to A your toughest Qs about comedy, family, romance, school, and the meaning of life (maybe).  Got a problem you can't solve or a goal you need help meeting? Ask Avery by DMing @GOLDComedy or emailing info+askavery@gmail.com. BREAKING: Avery runs/hosts open mics Mondays at 7 p and Thursdays at 12 p ($5 for 5 min) at West Side Comedy Club. Come through and say hi!
---
Dear Avery, 
I want to stop eating meat, but it tastes so good. I watched that food documentary when the chickens are all crowded together and I just feel so bad. Any tips for becoming slowly meatless without missing meat? 
Your friend,
Meatless in Seattle
---
Dear Meatless in Seattle, 
This is a better question to ask me than you may think, because for a little over a year, I've been eating (almost) no meat! A lot of people ask me "Why don't you eat meat, Avery—you love sucki—", which is normally where I cut them off. But for real, when you decide to stop eating a pretty major food group, people expect you to be a PETA warrior who goes in public covered with blood, naked. I can assure you this is not the case for me. 
I was never a big meat eater to begin with. Even a $400 steak tasted like a leather couch to me and chicken I couldn't eat without shredding to tiny pieces. (Going out to dinner with me is fun). Then in June, I finally tried THE Popeye's chicken sandwich, and bit into a tendon that left such a weird mouth feel, from that day I vowed to never consume animals again. 
HOWEVER, I did not follow up on my promise. I still eat Boar's Head Honey Maple Turkey (sponsor me please) because it's just unbeatable. When under the influence of alcohol, I've been known to throw a few Mcdonald's Nuggets in my mouth with drunk joy! I eat eggs often for the same reason I'm pro-abortion (that one will sink in, I promise). 
If you want to stop eating meat, or at least cut back on it, I support you all the way. You could start with Meatless Mondays and go from there. I'm not saying DON'T cut it out entirely, but they say that more people cutting down on meat (feasible, doable) has more impact on the planet than fewer people going full vegan. (Not saying people shouldn't go full vegan—just doing the math.) Related: You could also try smart and totally doable gambits like Mark Bittman's 'Vegan until 6 pm."  (And then cheeseburgers until 6 am? No. No, that's not the spirit.)
A personal tip I have for you is don't skimp on the protein. Beans, eggs, tofu, lentils, etc.! There are so many recipes out there for delicious meatless meals, enough for a lifetime. If you were a caveman, this might be a bigger struggle. But since we're in the gluten-free, vegan, plant-based, keto, etc. world where every single person has their own hyper-specific diet—and we are so much better at making "healthy" things taste good, I bet you'll be able to beef down your diet in no time. 
And good news: no desserts have meat in them, so go crazy on the chocolate cake, and just try to save room for dinner. 
Love,
Avery