GOLD's 2023 Holiday Gift Guide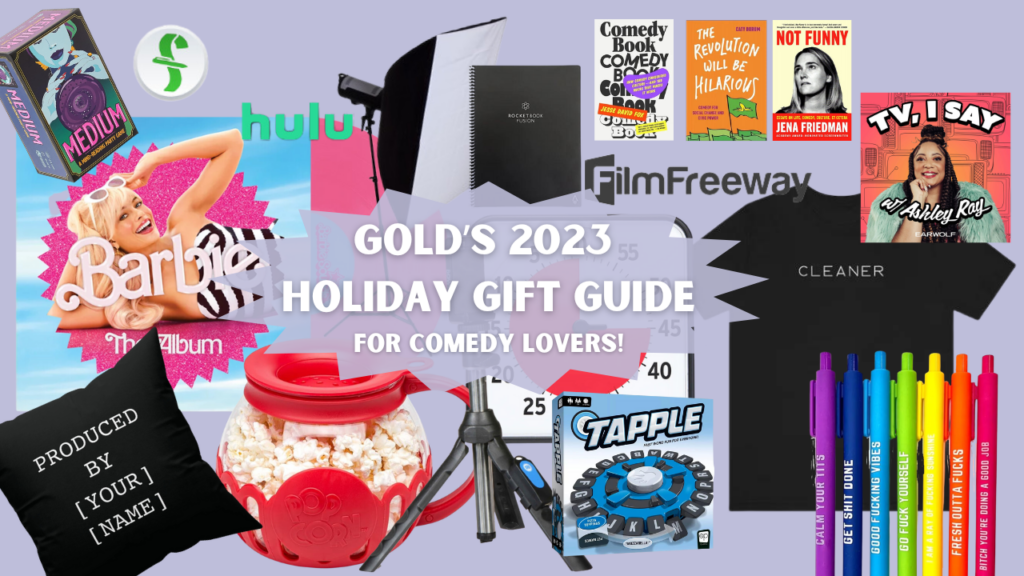 With Thanksgiving right around the corner, I think it's safe to say that the Holidays are HERE. Especially considering that Black Friday started before Halloween somehow this year? This is the liberal war on decorating separately for Halloween and Fall and Thanksgiving. I know how to stick it to them…by getting everyone on your list a killer comedy gift.
Comedians are HARD to shop for because when you ask them what they want they say stuff like "Present? I hardly know -sent." And that is not a purchasable gift. And there's no way to MAKE them (us) less annoying! Which I am CONSTANTLY having to remind my wife!
Megan, if you're reading this, I'm annoying because I make important ART.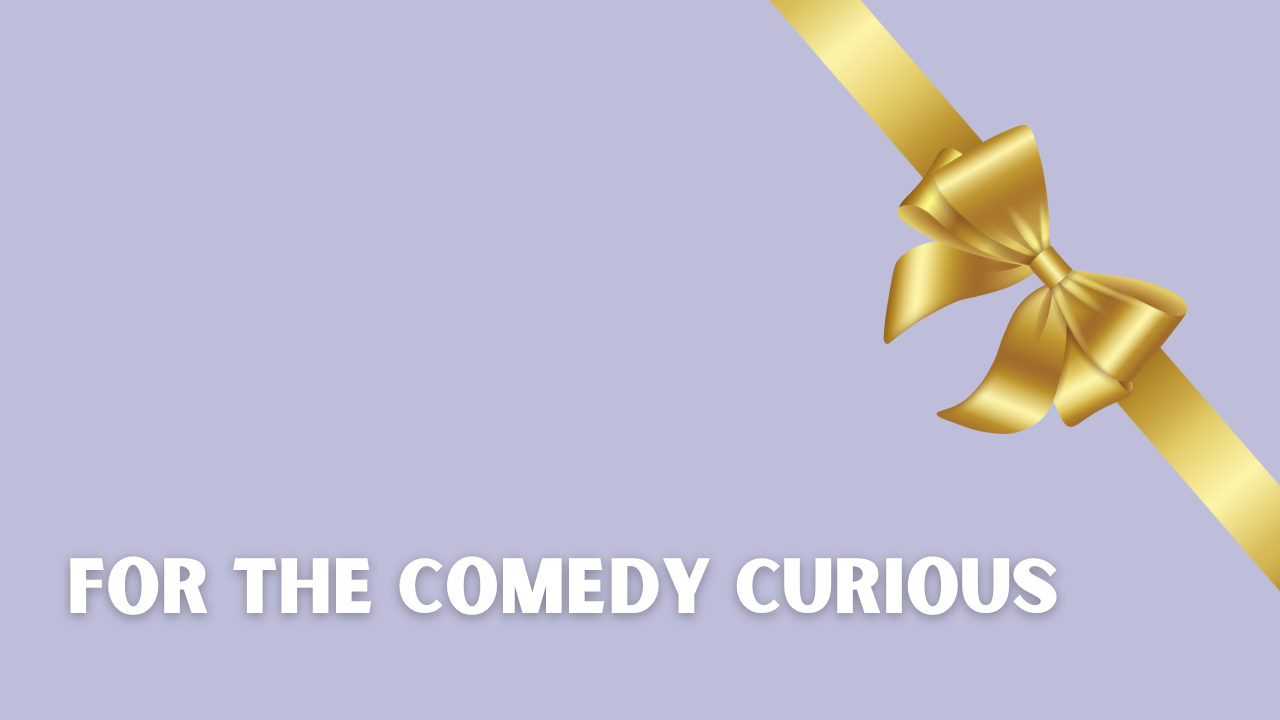 If your funny giftee isn't fully ready to quit their 9-5 and practice their Dolly impression all day, they might be comedy curious! Here are some ideas for what goofy gifts they'll most wanna gab about.
I have a shirt like this with Charlie Swan on it, but the DeVito version really takes the cake. This king deserves to live in their dresser and sometimes on their chest. Scoop this shirt up for your pal and they will think of you every time they wear it!
Are your friends trying to read more? Amazing! I recommend staying far away from Booktok and instead buying this. Booktok recs don't have ANYTHING on this highly personal and very funny gift guide!
Written by fab comic Jena Friedman, this book will make your giftee laugh, chuckle, and maybe shed a tear realizing they too…are a woman in comedy.
Honestly, the rise of funky maximalist decor is one of the greatest gifts 2023 has given us. Give them the gift of a cool neon sign that says their name or something stupid like "goober." They can put it in their Zoom background and probably get a lot of compliments (and questions).
One of the most valuable quicky-production tools is a solid tripod for your phone. No joke, phone tripods have made my life easier many times. They can set it up to film, stream, or just to watch the latest season of Abbott. It's like having a second tiny monitor, or a friend who will film their sets at open mic night.
This microwave popcorn thingy is the bomb. No jokes here, just really amazing popcorn for your movie nights and binge-watches. If your friend invites people over to watch Twilight, let's say, and then doesn't have popcorn??? They could honestly DIE in the aftermath of something like that. Get them this popcorn thingy. Save a life.
The season may be over. But the spirit of Barbie Summer lives on in all of us. Let it live on louder by grabbing this very cool Barbie Pink vinyl of the album. Complete with my faves Brandi Carlile and her wife singing the lesbian anthem Closer to Fine.
This game slaps, without having to slap. Remember the old days when our fathers and our fathers' fathers would gather 'round the campfire, drinking moonshine and playing Catchphrase? Those days are gone. But now we have Tapple, a silly game of quick-thinking and nonsense shouting. This game gets a lot of play at my house and there have been giggles every time. Once, my wife had to name a "flat thing" starting with the letter L and she said "limousine moonroof" and now that's the permanent name of a group message on my phone!! You probably can't get your funny friend a funny wife, but you can get them Tapple.
This simple card game is perfect for the comedian in your life. How perfect? So perfect that I use it as a show warm-up for the sketch reviews I direct. It's all about anticipating the other players' thoughts and vibing! Great game!
At the risk of sounding cheugy (Do people even say this anymore?), these mad little pens are so fun. When you need to get the fuck to work, it helps when your pen is telling you so. Your friend will appreciate the functional fun, I think! And if you don't think they will, then just keep reading this list! It's not over yet!
Ashley Ray is a take queen. Her takes rule over all other TV critic takes. She's cool and fun and she likes funny stuff for what it is. She puts the same amount of heart into her reviews of Below Deck as she does Succession. And that makes it my favorite TV writing. If your giftee is a comedy/TV lover, this is such a sick gift. Ashley's weekly email about what she watched is a must-read for me, and will be for them too!
Does your giftee want to pursue comedy more seriously? Are they unsure how comedy fits into their lifestyle because of work or where they live or how often they choose to watch Bones instead of going to open mics? The GOLD Club is an all-inclusive comedy school and career network. You don't have to purchase a house to gift them their comedy home. It's here, at GOLD.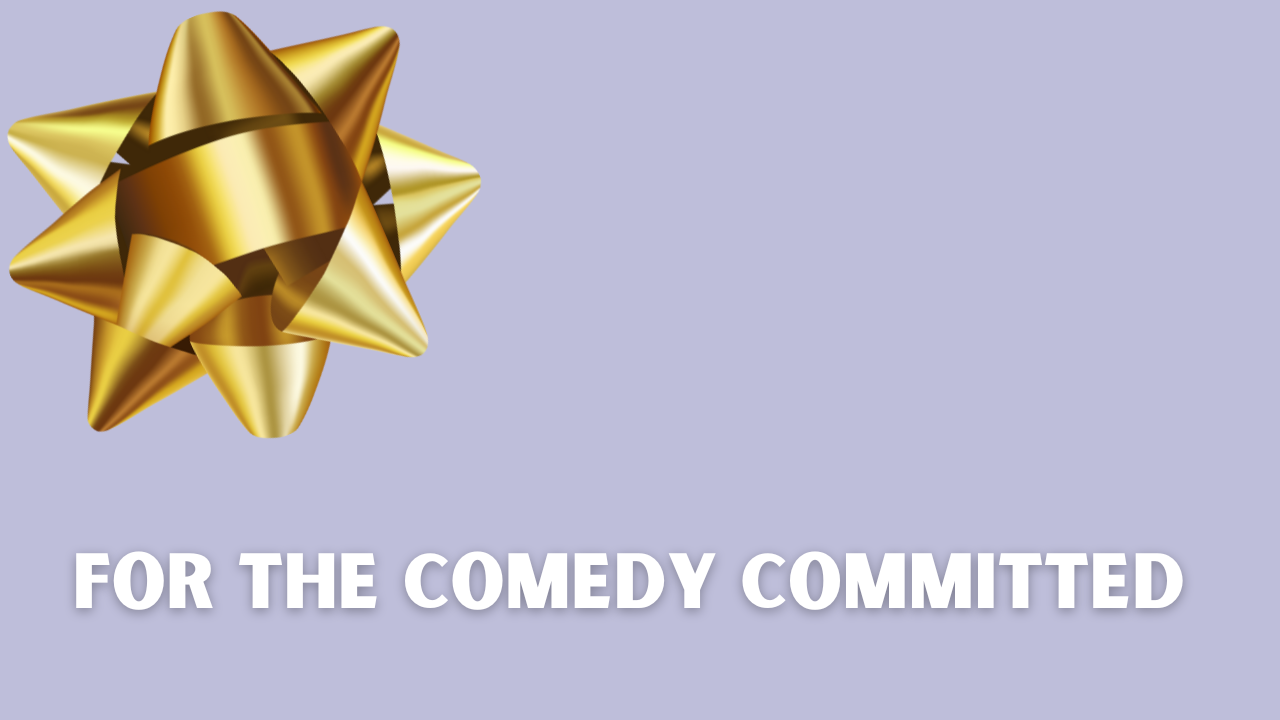 Okay, we've made it to the part of the list for the real nerds. You've heard of Guy's Guys. But now there are Comedian's Comedians. Let's all raise a glass for the real dorks in our lives and use the other hand to click these links and buy them nifty gifties.
We're starting off strong with a deep-ish cut Broad City reference. You'll know how much your giftee wants this based on how often they say things like "YAS QUEEN" or "Blue dress."
This is my favorite book about writing. It's totally transformative because of how it describes writing as a practice (like meditation) rather than any other craft. If your giftee is a writer who suffers from writer's block, procrastination, or a deep love of woo-woo stuff, this is the book for them.
A friend of GOLD and founder of the Yes, And Laughter Lab wrote this killer book about comedy and social change. The world is in conflict and it's time to speak funny truth to power. Your friend will love.
Okay, stay with me here. This smart notebook is the way I learned how to speak Arabic, so I truly know how well it works. Basically, you write all your stuff down like a normal notebook, but then you can scan it into an app and then…ready?…MICROWAVE the notebook with water. When you microwave it, the ink disappears and it's like you have a fresh blank notebook again. There are easy ways to organize and categorize all your notes in the book and app and I can't think of a better system for organizing a bunch of random bits! My wife got me this!
One day in the middle of last year I stormed out of my apartment because I felt like I couldn't write anything. If your giftee is a writer, they'll understand the impulse. I finally returned home with a giant whiteboard and within the hour had beaten out an entire pilot. Whiteboards are life, dear reader. Give your giftee the gift of life.
Nothing harshes your content like bad lighting. Even if your giftee doesn't do a lot of serious production, (maybe even especially) a light kit can really save the day. This kit is easy to set up and store, and your giftee will be glad to have slick-looking vids.
Whether or not your giftee is named Dick Wolf, this pillow is sure to make an impact. If your friend is named Dick Wolf, though, please pass on my contact info.
This is a recent recommendation from GOLDie and character-comedian, Laura Ornella. As a fan of timed writing, I was thrilled to see more people talking about what a really good timer can do for your routine. It's not a flashy gift, but it's a very cute, mod little timer that your giftee is sure to love on their desk.
Hulu has live sports! At least that's what I hear! Hulu is my most-used streaming platform, and I think anyone who loves comedy needs to be watching some shows week to week. Give them the gift of endless, ad-free laughs, baby!
Take a look at that snout*! This program (which is often on sale!) is the industry standard screenwriting software. If your giftee is serious about writing scripts (of any kind!), they'll need this program. If the price is too much to swing alone, get some buds together and surprise your giftee with this. Computers! STEM!!
*pricetag
This is basically a platform like the common app. But instead of applying to colleges, membership will allow your giftee to submit to a ton of film festivals at pretty deep discounts. You don't need a film because most festivals (or contests) accept scripts at various lengths. This is a cool way for your giftee to get noticed, create buzz around their projects, and win some laurels!
Obviously, we understand that there are a lot of comedy schools and workshops out there. We just also know we're the very best one for women and nonbinary folks. Our courses are taught by legit pros with experience and know-how. Our digital teams are stacked with incredible, professional directors, editors, writers, and actors. Our network is ad-free and provides 24/7 access to a comedy crew. If your giftee is into amazing stuff, they'll probably love getting the gift of GOLD.