A day on the set: Behind the scenes of The Marvelous Mrs. Maisel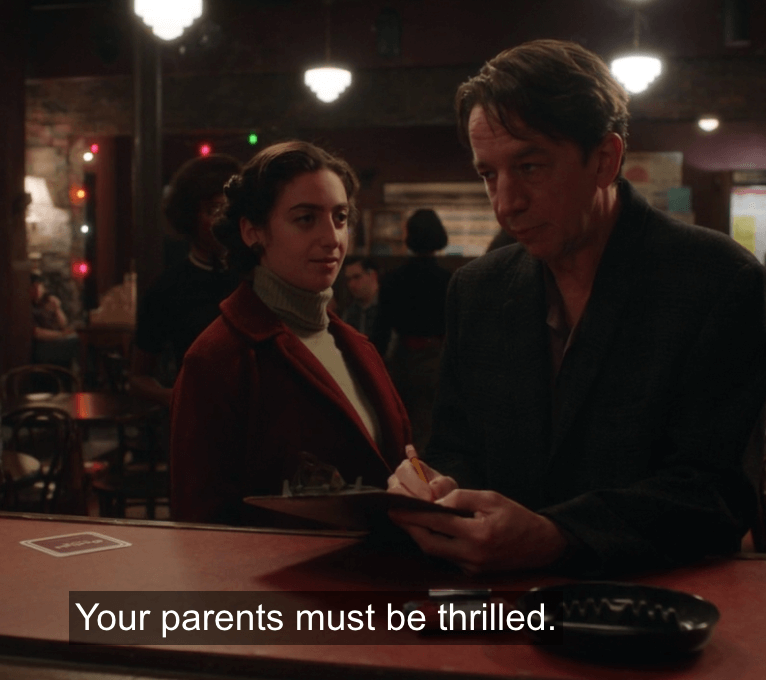 This past November, I had the pleasure of reconnecting with some long-lost friends. Old acquaintances, lovers, and everyone in between (read: girls from sleepaway camp) came out of the woodwork to text me, "Is this you?!!" along with a screenshot of the finale of The Marvelous Mrs. Maisel.
Yes, that was me. There, in my 1950s turtleneck, with my one line, I made my TV debut on the now Emmy-nominated Amazon series.
As this was my first ever TV audition (and my first booked role), the week leading up to it felt like a dream. I got the notice and auditioned the next day, 'cause TV moves fast and wreaks havoc on the normal 9-5 employee.
I usually try to keep quiet about my auditions, so as to not jinx them, and I usually fail. My Maisel audition was no exception. I blabbed about it everyone I could (my roommates, my boyfriend, my Jewish mother to whom the show spoke very heavily) and then spent every remaining waking hour preparing my scene. I said the lines over and over again, in a way that made me laugh. (Why yes, I do crack myself up sometimes! Don't you?)
I also asked myself: What made me special as a comedian? What was going to get me booked over, say, the approachable blonde woman sitting next to me who looked infinitely more TV-ready and had more credits under her belt? I felt like a little rat-girl with something to prove. Answering these questions was how I settled on the exact delivery of my lines. It had to be in my voice, in my specific brand of comedy (which is still developing, and that's okay. I'd been honing my voice for a year through live performances, and now was no time to abandon it.) I also plundered my closet for the most mid-century dress I could find, and sewed on an extra button to make sure it stayed closed during my audition, as this had been an issue with the dress in the past.
In the audition room, I took a deep breath, tried to remain steady even as the reader raced through her side of the lines, and did my scene. Afterwards, I fretted that I had showed them too much of "me" and not enough of what they wanted. Guess what, inner-negative-Nellie? I was wrong. My manager called me the next to day to tell me that while they didn't think I was right for the part I'd read for, they thought I was "so funny" that they cast me in another role.
I trekked out to the Brooklyn Navy Yard in for my costume fitting at Steiner Studios that same night. Whose fast-and-furious life was this? Certainly not mine, a lowly customer-service rep at a men's shaving startup who, unbeknownst to her, was about to get fired from said job.
I was ecstatic. Then, I was nervous. I'd worked in production before (another article for a much later time when everyone I've worked with is either dead  or too senile to read my scathing tell-all), and I knew just how many people, places, and things it took to create an episode of television. What if I didn't know where to go on set? What if they told me to do something and I didn't know what it meant? What if my phone buzzed while we were rolling? What if I got edited out?!
None of these things happened. Here's what did:
August 21st – 7pm: The Night Before
I receive my call time. My call time is not the crew call time, a mistake I've made before. I have my own call time, specially scheduled for me. I check it once. I check it twice. I triple-check it. I cannot afford to be late and, presumably, blacklisted from the industry. This is my first TV job and I must make a good impression. I am a principal actor for the day, so I am important. I am basically the #1. The production rests on my shoulders.
My call time is 1pm, which is is a nice call time. It means I can shower, which I assume is the polite thing to do before letting people touch your hair and face. The extra sleep will ensure that I am well-rested and emotionally prepared for my one line.
August 22nd – 12:15 pm: The Day Of
I arrive on set. I'm way too early, and I know that's not convenient because no one is there to meet me at the campers. The campers, if you're wondering, are the big long white trailers that you see taking up all the good parking spaces during the weekday. They are full of dressing rooms and they usually have the Desi and Lucy signs, not because there's been a 12-years-in-the-making biopic about Lucille Ball, but because it's funny and an homage to the old TV sets of yore. I walk to a nearby cafe. I am too nervous to eat, so I only order tea, which I'm too nervous to drink, and sit there for 30 minutes. Also, I pay with credit card, which is so obnoxious. The waitress gives me death glares.
12:45: I return to the campers. I approach a PA and tell him that I have arrived. He walkies the the First Team production assistant, a woman with a cool hairstyle and a cooler name (that I immediately forget. Spike? Frankie? Gone.). She puts me in my dressing room and gives me paperwork to sign. I have not even dug my pen out of my bag when I am whisked off to hair and makeup.
1 pm: I play a spoken-word poet from the 1950s, so for makeup, I get … eyeliner. My hair, on the other hand, takes about an hour, since they have to make my long locks seem short — an illusion, the magic of television. I end up what what I think looks like a housewife's hairdo, but actually was a hip hairstyle at the time. Period pieces. Did I mention I got my facial piercing removed for this? Well, I did. We all make sacrifices for our craft.
At hair-and-makeup, I'm sitting next to a woman I saw at the auditions. Turns out neither of us got the part we auditioned for, but both got cast in other roles. We chat. She's very nice. I like making friends on set because besides having the obvious in common, what greater "this is how we met" story is there?
2 pm: My hair and makeup are done. I am put into a van with a couple of crew members and two other actors who will be my Best Friends For The Day. We are driven to the Marvelous Mrs. Maisel stages in Brooklyn. Yes, I woke up in Brooklyn, came to Manhattan to get my makeup done, and went back to Brooklyn to film my scene. Showbiz, baby!
3 pm: We arrive back on set. I am taken to my onstage dressing room, and am delighted to find that there is a bathroom and a bunch of mirrors. I take pictures and send it to my family, so they can understand that I have hit the big time. I have a bathroom! In my (second) dressing room of the day! My costume is in there, so I try it on. My boobs are pointy and ready for action.
3:30 pm I go back to hair and makeup so they can make sure their work matches with the costume I'm now in. I don't bring my purse down with me, and they want to see it with the purse. I go back upstairs and get my purse. Did I mention  that I have a First Team PA on me at all times? That means there's always someone to bring me from point A to point B. I could say "I want to go to my McDonalds" and they would accompany me there, even though there's a more convenient McDonalds right down the block. I don't make this kind of request because I don't like McDonalds, but one day I might.
4 pm We break for lunch. I don't feel as though I've been working hard enough to deserve a break, but union rules are union rules, and the crew has been working hard and they need lunch. I eat chicken (it's very good!) and drink water and hang out with my two new Best Friends Of the Day. We go over how we got these roles and who reps us. I like hearing how everyone got to this place in their lives, because every single story is a combination of hard work and sheer luck. I feel lucky to be here.
5 pm We meet to rehearse. We sit in a circle and go over our lines with the the creator and the director of this ep, Amy Sherman-Palladino. I am nervous and intimidated by the sheer popularity of Gilmore Girls (Sherman-Palladino's other show), so I mess up my one line. She corrects me and I already know she thinks hiring me was a mistake. Then I remember that it was a little stumble, about which she doesn't care, so neither do I. Okay!
5:30-11 pm Cameras roll! And roll and roll and roll. Basically, each shot goes like this: The cameras set up. The principal actors and extras come in and we rehearse to make sure the shot works with everyone moving. The makeup/costume people check to make sure everything looks good on the people-side. Then we film it a few times. Then onto the next shot. Rinse, repeat.
When we film my closeup, the director asks me to pace up my line. I say "what?" because even though I know what "pace" and "up" mean, the two together confuse me. She says to make it faster. I say okay. And then I do. And all the while, I know she is thinking, "Why did we hire this stupid, short girl who speaks at the pace of a snail and doesn't even know her line?" And yet she still didn't edit me out. So thank you, Amy.
We do the scene over and over again. It's only about a page, but it takes six hours, which is normal. The cameras focus on different people, and different angles on different people. Sometimes, the cameras have to set up in an entirely different part of the room, so everyone clears out and waits in "holding." I take selfies with my new best friends. We're gonna keep in touch when this is over, i just know it. But it is a long day of standing around and not moving until you're told. Sometimes, if you're not in the background of a shot, you can just hang out. Usually, though, you're on your feet. It's fun. It's tiring. It's nowhere near as tiring as being a crew member. I do get cheese, though. It's on the craft-services table.
11 pm: I am wrapped. The crew still has one more short scene to film, but my scene is done. I go upstairs (with my trusty First Team PA), change out of my costume, check in with the PA they told me to check in with, and grab a Lyft. It is raining, and I am soaked waiting for the Lyft. I take out my 100,000 bobby pins in the car.
---
SOPHIE ZUCKER (T.A.) is a comedian-slash-child-star who loves musicals and slime. She has appeared in The Marvelous Mrs. Maisel and has written and produced videos for Jill Soloway's wifey.tv. She wrote, produced, and starred in a million sold-out shows in New York and is now a TV writer in L.A.. @mightyzucks