RECAP: Margaret Cho is never topped-out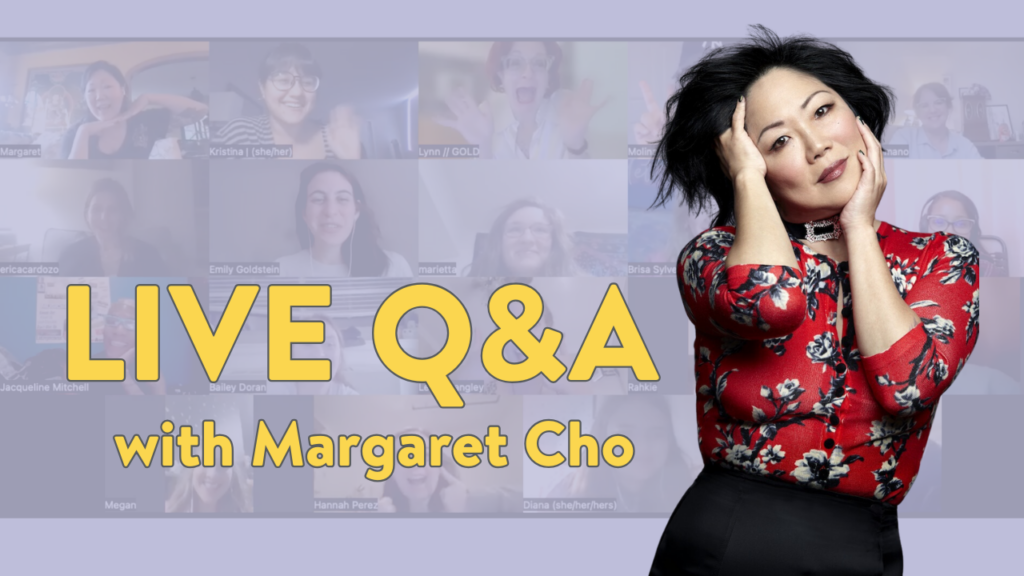 In November of 2022, when the club theme was "gratitude," the one and only Margaret Cho dropped by GOLD for a Zoom Q&A. Cho said that she is most grateful to "Be a grown-up and have grown-up money so (she) can buy things (she) really wanted as a kid." 
Margaret Cho told us about those things in her house including but not limited to a portrait of herself made from the garbage in her junk drawer. While we could've spent hours on an Architectural Digest-style house tour, we had more pressing questions for THE Margaret Cho. The first of which was on the difference between the top of the business, where Cho currently is, and where she came from. "There really is no top," she says, "it never feels like I'm topped out. I never dreamed of achieving the success I have, but I know there's always further to go." 
Getting to "the top" is a subject that nearly every comedian wrestles with. In the comedy world, it is hard to know what "top" means, if it's even achievable, and, if so, how the heck to get there. Margaret Cho says, "The talented don't always make it. It's the people who don't give up, and the ability to keep getting back up and doing it again." Cho also suggests reframing rejection as delay.
Bombing, as we all know, is part of the process. It sucks, but you learn from it every time, and it's true that one failure or one rejection does not mean the end of all your progress, it's just a delay of the goal. "If there's a rejection, maybe there's something else to come in." Cho has one of the most positive prospects on comedy that I've ever heard, calling comedy a secure career path because "People have to laugh."
In all of our Q&As, questions often come up on the subject of finding your comedic voice. Margaret Cho has a very clear, recognizable voice, but she says it took her a long time to figure out her comedy style. In fact, she attributes it to having started so young. "I had so many worries about what was gonna happen," Cho says of her younger self, "The journey has to be fun, that's what is important. Love the way there." 
In writing about upsetting or taboo or hot-button topics, Margaret Cho advises only making comedy about topics you want to add energy to. Not necessarily ones that are only in your beliefs, but ones you feel could use more air time.
When asked if she would redo any of her former projects again, she said, "Anything I've done I would like to do again," which feels like a good sign that one is in the right place in life. We thank Margaret for sharing that with us. And for existing. Give it up for Margaret Cho, people.