RECAP: Esther Fallick trusts her voice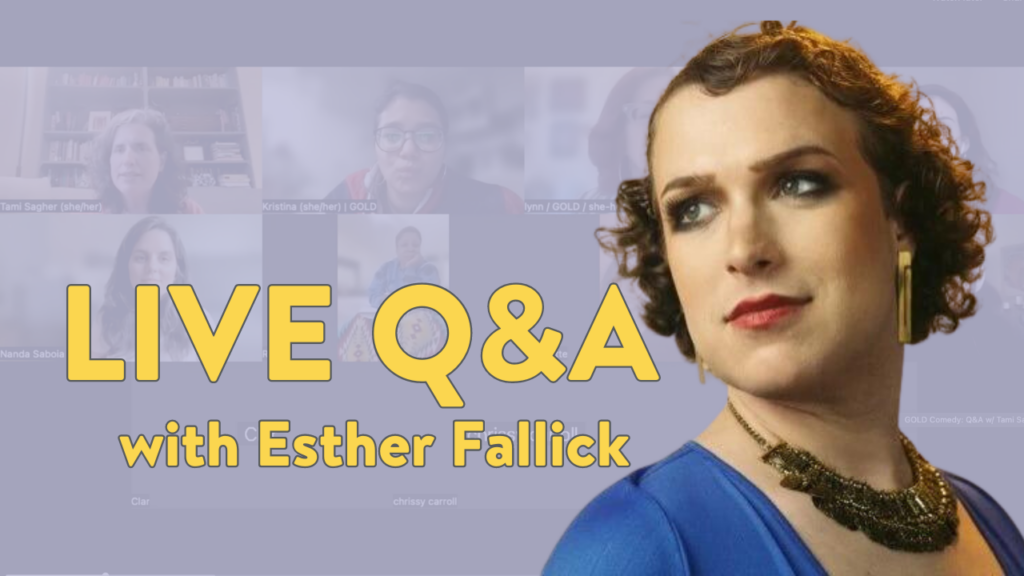 Cabaret-comedic genius and co-writer of the debut song for the Purple M&M, "I'm just gonna be me," Esther Fallick dropped by for one of GOLD's Wednesday Q&As and she enlighted members with advice, inspiration, and laughs.
The soul of Esther's comedy comes from the strength and depth of her voice–both literally and comedically. Classically trained in musical theatre with a BFA from the University of Michigan, it's only natural that her medium of choice would be musical comedy. When asked about the development of her stage persona, Fallick says, "There are a lot of preconceived notions for women in comedy and trans women. A lot of my comedy so far has come from the desire to play against that." Specifically, she notes the expectation of trans people to be "inspirational" in everything they do. "I like to start my jokes like, 'I had a slay queen moment,' and then undercut it with a joke." Coming out as trans can be an extremely difficult and complicated time, particularly when having to explain to friends and family. Esther says she had a "tight five" for coming out, not written down but rehearsed and with laugh lines to lighten the moment. Over time, she thought, why not tell that story to an audience? 
Cabaret comedy is a unique skill set. It's not classic standup, which makes it both more entertaining and riskier (in this writer's most humble opinion). We have all seen our fair share of heinously horrid musical comedy – not everyone's got it. Esther Fallick has got it. Her knowledge of musicals shines through, and her topics are ingenious as they appeal not only to the theatre nerd but also to the wider comedy-loving audience. Her work includes hit songs such as the self-explanatory "The role that I was meant to play in Rent." She often adapts classic musical hits to parallel the queer and trans experience, pointing out ingenious ways in which tens of songs are trans in a "Actually Trans Melody," with JJ Maley.
Esther was also asked about balance when it comes to comedy about identity. It is a classic and effective tool to use one's identity and or what makes them different to make comedy. "POV is what makes people interesting," says Fallick, "As a performer, I can get big mileage out of finding ways to make my personal experience universal." For instance, not everyone is trans, but gender is a universal topic, one which comedians from all walks of life have been commenting on for years. Esther just brings a new perspective. 
On the topic of getting out of one's comfort zone, Esther recommends reframing what failure is. Like going to an open mic can be a success if you learn just one thing about your set.
And of course, Esther notes, "Some people just aren't into you, but there are tons of people who will like your comedy so you won't have to sacrifice part of yourself to get the laugh." 
As a parting answer, Esther Fallick told the GOLD crew something she wished she had learned earlier in her career: "I wish I had trusted my voice more. If there was something that made me laugh, it could make others laugh too. And now I do." These words still bring a small tear to mine eye, even as I type them out!