Phoebe Robinson's new book basically told me: You don't need permish, bish!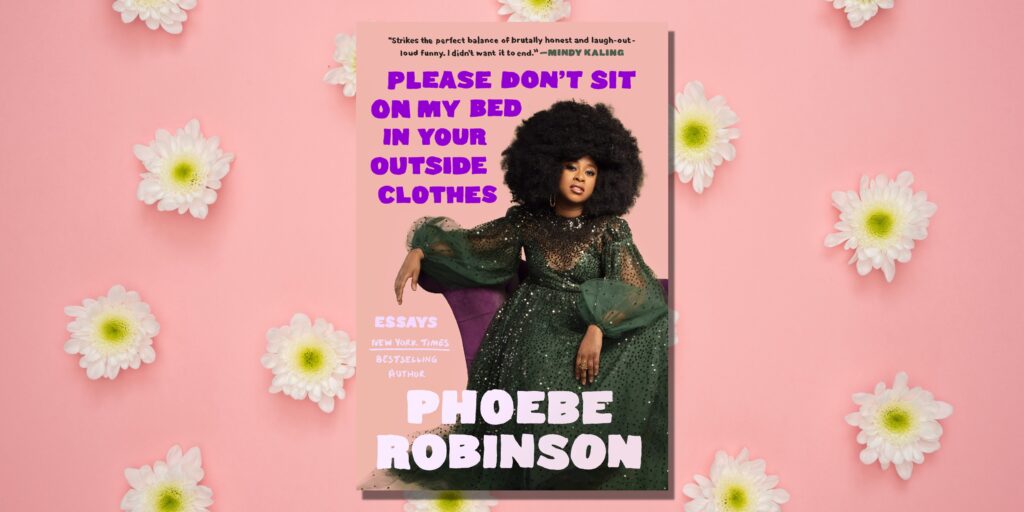 I have beef with Phoebe Robinson. It's one-sided, not at all contentious, and definitely mild. More like beef-flavored ramen—yep, I've got beef-flavored ramen with Phoebe. 
The first time I experienced Phoebe Robinson's comedy, I was in the live audience for her HBO special taping at King's Theatre in Brooklyn in 2018. (You don't just watch her perform; you experience it.) Ever since then, I've followed her on Instagram, snickering at her captions and feeling excited for each new bold career move. Have you heard of the Saved Posts feature? I used the announcement photo of her literary imprint as the cover image for all 613 career-minded posts I've saved. I lovingly scroll past mini- Phoebe's power pose several times a day. 
That's why I jumped for joy and ran a lap around the room when I was asked to write this review (in spite of my unilateral beef-flavored ramen, which I'll get into later). I'm excited to share my experience of Please Don't Sit in my Bed in Your Outside Clothes, her latest compilation of essays. The short version: it's a lot. I mean, look at the title! 
Phoebe Robinson is a comedian, New York Times best-selling author, actress and podcaster. You may know her from her series of podcasts-turned-HBO specials, 2 Dope Queens, or a ton of other projects. In her third book, which I'll be abbreviating as Please Don't Sit to save on time and sanity, she creates what she calls "a time capsule … of who I was and maybe who some of us were at this moment in time," this time being the smack dab middle of our current global pandemic. 
Please Don't Sit is funny and honest, to be sure. She takes on personal-yet-universally-relatable topics—from flatulence in front of her partner to imposter syndrome as a Black force in a white industry. And she does it all in her trademark style of overzealous analogy-filled descriptions. She's basically a Black, millennial Amy Sherman-Palladino—but instead of needing a TV Guide and TCM subscription to decipher the razor-sharp wit, you need a working knowledge of TikTok, Essence Magazine, and patience. 
Wait, what am I doing?! How could I make it three paragraphs without describing the abbreviations?! If you're not familiar with her style, Robinson truncates at least 25% of the English language to the funniest syllable and rocks with it. So in her style, the phrase "social media" becomes "sosh meeds." Ernest Hemingway hilariously becomes "Ernie Hems." In other words, Pheebs abreevs ev'. (Translation, Phoebe Robinson abbreviates everything—and it's usually hilar'.) 
The book reads like an Instagram story in Close Friends that you screenshot happily to capture all the smart, funny wisdom and save it for later. But when's the last time you read an Instagram story that was hundreds of pages long?
Please Don't Sit does the absolute most. You should read it anyway. The balance of funny-to-honest is like my blood sugar after an ice-cold Sprite and a generous plate of shrimp alfredo: probably too high. Robinson's "streams" of consciousness are like Olympic-level whitewater rapids. In #Quaranbae, where she describes the experience of being in a coronavirus lockdown with her partner, we first endure six or seven rapid-fire quips about trees. As knee-slapping as that sounds, as that sounds, for me it puts the book in "too much of a good thing" territory. Describing the famous Ah-hah's in Maxwell's This Woman's Work was a fun descriptive detail that enhances the gems of wisdom; the full page of outlandish, hypothetical comedy bits distracts me from the same gems. 
The colorful descriptions also create a real, if not hilarious, barrier between the reader and the excellent points she's making. In her essay on "being a boss," she touches on a lack of books and articles on what it's like to be a Black female entrepreneur with employees and influence. She asks, "Where's Lean In for us?" and I feel that! I wish I knew an author, comedian, talk show host, business owner, and boss who could write an essay on this exact topic … wait. I do. Her name is Phoebe Robinson and I want to hear those exact insights from HER, despite the beef ramen. 
Let me explain: Another one of Phoebe Robinson's projects is a TV show on Comedy Central called Doing the Most with Phoebe Robinson. I once had an idea for a show with a similar title and vibe. She had the audacity to do it first and I actually cried about it when I heard. PHEEBS ROBS has already done it. My ideas are moot now. Now it's like I don't have a chance!
But this book actually helped me realize that while she's already known for Doing the Most, I've got other creative ideas I can bring to life—we all do, and we should go for it. 
Phoebe's writing proves that unapologetic, esoteric humor isn't just for Amy Sherm Palls and her pals. It's for curious, opinionated, Black and female multi-hyphenates like me, too. Phoebe's writing style gives me permission* to be a little wordy and a little nerdy if I want to be. 
*In response to this sentiment, I feel like Phoebe would say something like: "YOU DON'T NEED MY PERMISH, BISH! Channel your inner Sweet Brown. Be a southern-drawl-having bystander being interviewed on live local news after a fire: take the mic, and SAY WHATEVER YOU WANT because ainobodygottimeforthat!" 
And she would be absolutely right.