Muppet Treasure Island is A Perfect Movie, Fight Me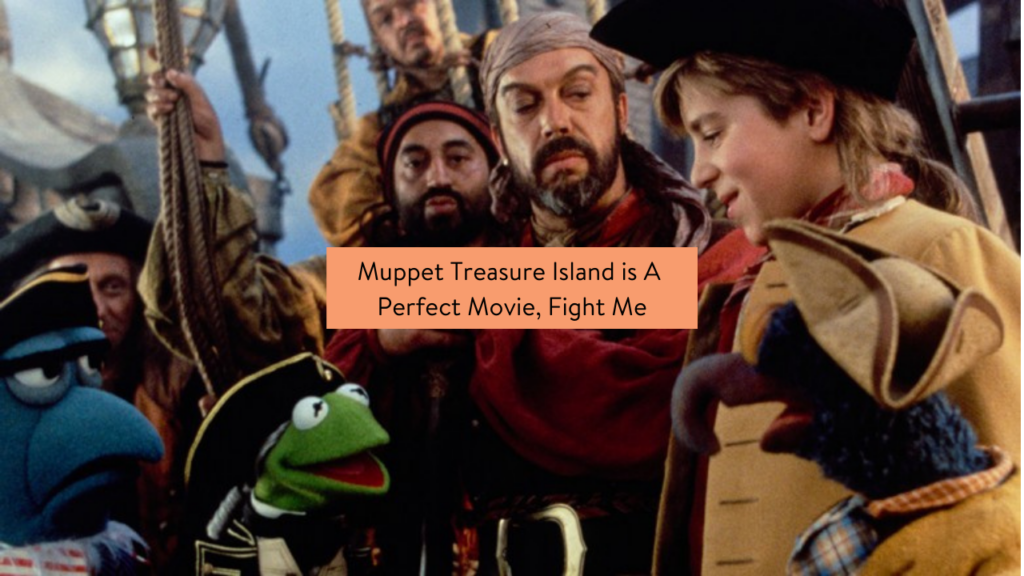 I recently got COVID because Ms. Rona comes for us all. I treated myself to lots of water, tea, and streaming services with a big dose of nostalgia. I was looking for something that would make me laugh, and I realized, Some Like it Hot may be on the top of every listicle on the internet but some like to be wrong.
Muppet Treasure Island is the superior comedy and I'll fight any "film" "bro" who "disagrees." Muppet Treasure Island was released in 1996 and it's been one of my favorite Muppet movies for a long time. During my corona-rewatch, it was as funny as I remembered it, full of heart, and dare I say it: a perfect film for Pride Month?
Kermit, Miss Piggy, and Tim Curry (TIM! CURRY!) star in a vaudevillian remake of Robert Louis Stevenson's classic novel, and it. is. faultless. Here's why:
The following contains spoilers for a movie that came out 26 years ago, loosely based on a novel that came out 139 years ago.
---
It's a top-notch cast
I could do a whole article just about the nature of a successful human performance when co-staring with Muppets. My thesis is that a human actor must treat the film as seriously as possible while understanding the whimsy that comes along with any Muppet movie.
Tim Curry as the swashbuckling villain, Long John Silver, hits all the right notes of grounded theatricality. He is funny, threatening without being all-out frightening, and surprisingly touching.
Cameos from Scottish comedian Billy Connolly and English character actress Jennifer Saunders are memorable and delightfully amusing.
Kevin Bishop plays Jim Hawkins and he is quite soulful as a human child surrounded by a ton of weird Muppet pirates. He was only 15 when he filmed this movie and he's doing a really good job in a silly blonde mullet. It's hard for many adult actors to find the right mix of heart and comedy in a Muppet movie, so I think Bishop really hits it out of the park.
I hesitate to mention the Muppet performers, Frank Oz, David Goelz, Steve Whitmire, and others doing incredible puppet performances with our beloved characters. For nostalgia reasons, I prefer to think that Kermit the Frog is the actor playing Captain Smollett, but that discounts the brilliant work of these puppeteers. Add the layer of playing Kermit, playing Smollet…that's acting, baby.
It's a musical 
Oh yeah, it's a musical. A lot of Muppet movies are – but not all, and I believe the Muppet musicals are superior to the non-musicals.
The songs in this are absolute bangers, probably because Cynthia Weil and Barry Mann wrote the musical numbers??!! Do you know who they are??!! They wrote a bunch of cool pop songs from the 60s and 70s including Dolly Parton's "Here You Come Again" and Righteous Brother's "You've Lost The Loving Feeling"! Pop royalty! And boy, are these songs catchy.
Many lyrics are laugh-out-loud hilarious. One of my favorite moments is during the song "Sailing for Adventure". The whole crew is joyously singing about the ocean and Fozzie Bear (who apparently doesn't know what the ocean is called) sings: "Sailing for adventure on the big blue wet thing". It's a call-back that gets me every time. 
The instrumental scoring was written by Hans Zimmer. Yes, the very same Oscar-winning Hans Zimmer who wrote the score to Pirates of the Caribbean. He seems to be trying out some of that music well before the first Pirates movie was released. It's epic, it's swashbuckling, and it immediately sets the tone for a serious adventure movie – which is a wonderful contrast when the Muppets irreverently show up and break expectations.
It's theatre
In some Muppet movies, Kermit plays Kermit and Piggy plays Piggy. But in MTI they are playing characters. I'm talking about taking on a role! Sure, Kermit is still playing a version of Kermit. But still – I'm talking beats! Tactics! Acting!
It's theatre baby, suspend your disbelief and check out these fabulous costumes: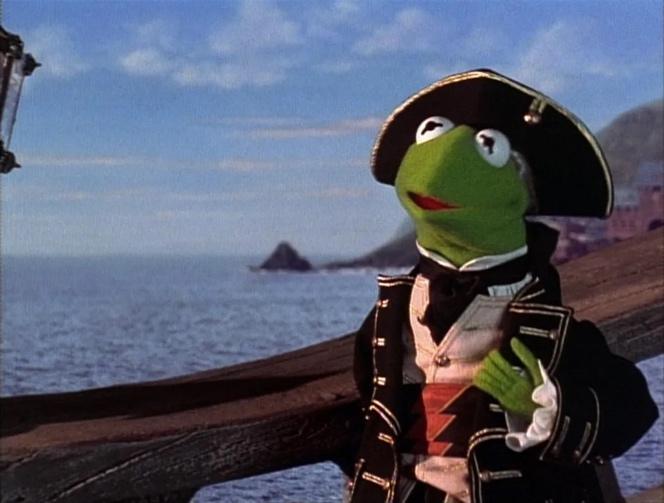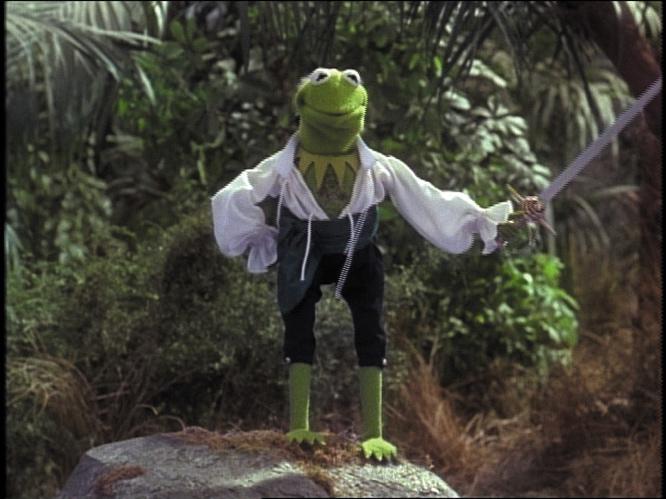 Also, yes Piggy, you magnificent diva.
Just for good measure, this spectacular coat on Tim Curry.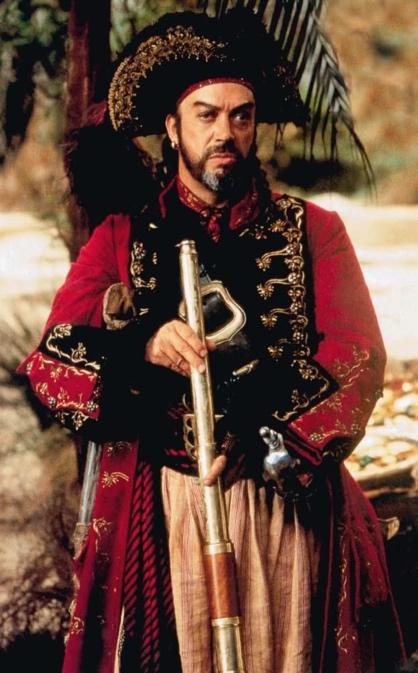 It's camp
The Muppets are camp.
Always have been.
They're outlandish, colorful, cheesy, and known for breaking the fourth wall. The Muppets are, to quote the film, "a festival of conviviality".
Tim Curry declares the song "Professional Pirate" is his "only number" and we are treated to a cheeky, silly showstopper. Another musical number, the power-pop ballad "Love Lead Us Here" is sung by Kermit and Piggy as they dangle upside down on a cliff, likely about to die. It's a children's movie, so they don't die, but how ironic and amusing. That's camp, baby. And a lot of layers for kids' entertainment. 
There's also a rat cruise that is being run alongside the pirate voyage ("We put the rat in Pi-rat"), featuring a dozen Long Island rat couples. Anachronistic, full of bad puns, and unexpected: That's camp, baby.
It's about your chosen family
Many Muppet movies have a theme of "chosen family". The Muppets themselves are very diverse, but they all chose to work and live and love together.
This movie centers around Jim Hawkins from the novel and his best friends Rizzo the Rat and Gonzo "the…whatever".
Jim is an orphan and desperately wants to connect to a "real human family". He believes it's possible with Long John Silver, who acts as a surrogate father figure. But ultimately, Silver is revealed to be a villain. Jim's friends, Kermit, Rizzo, Fozzie, and Gonzo are the ones who lift him up as he struggles to find his place in the world.
Because it's a Muppet movie, he does it!! He finds a family that accepts him, encourages him to live his dream, and protects him. It doesn't matter they aren't related to him – they are a family. That's the heart of this film.
June is almost over but if you want a nostalgic, hilarious, and heartwarming romp that's perfect for Pride Month (which is technically EVERY month!) – watch some Muppet Treasure Island.