Katie Goodman's mom won't stop heckling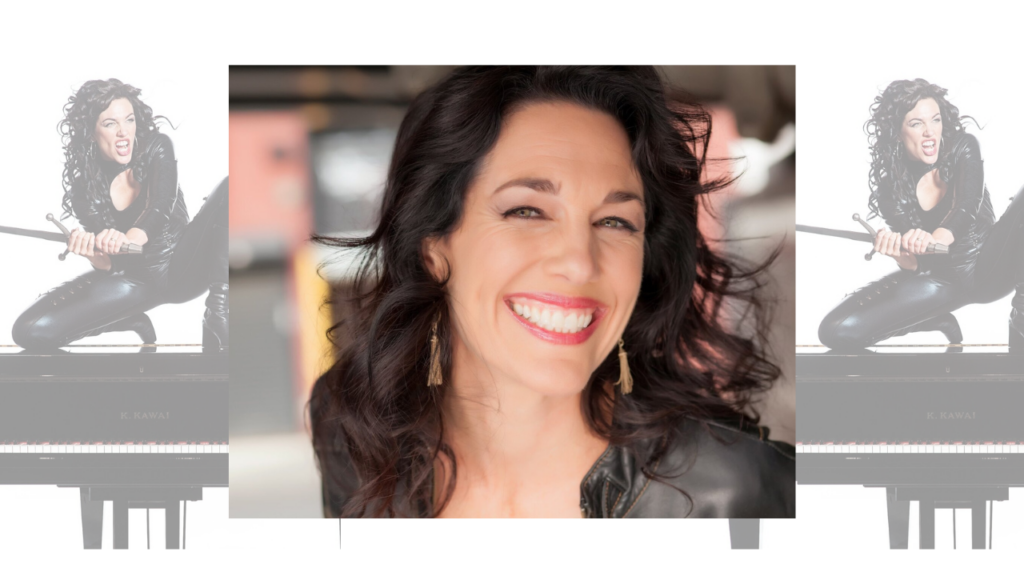 Katie Goodman is an award-winning musical comic, actress, director, writer, author, and speaker. She has been seen on Showtime's The Green Room, on Current TV as a pundit, and on TruTV in one of the most watched Impractical Jokers ever. (And yes, she was in on the joke!) She is signed with Comedy Dynamics, North America's largest independent record label, and her album "Halfway Closer To Dead" is available on Itunes. Her comedy music videos can be seen, having amassed over 2,000,000 hits on Youtube and several more million on Facebook. Katie is also a featured blogger for The Huffington Post, has contributed to O, The Oprah Magazine and is the author of Improvisation For The Spirit and the funny children's book, The Night Our Parents Went Out. She is a nationally touring keynote speaker on the topic of using the tools of improv comedy in everyday life.
As the creator and headliner of "Broad Comedy," an internationally touring satirical musical show that she and her husband Soren Kisiel write and direct, she has raised over $2,000,000 for Planned Parenthood and The ACLU. Her solo show, The Mid-Life Crisis Tour, has played Off-Broadway in New York City where she received a Time Out New York Critic's Pick for Best Cabaret. Katie and Soren were nominated for The EPIC Award from The White House Project and were also nominated for the MacArthur Foundation Genius Grant for their extensive work in theatre.
---
Favorite response to a heckler or troll?
Mom. Come on. We've talked about you not coming to my shows anymore.
Can you describe your worst gig?
A Trump supporter was heckling me forever and finally, this awesome young woman in all black and combat boots sitting behind him kicked him in the back of the head. My Shero! Actually, that might have ended up being my best gig ever.
Did you have an un-sexy starter job?
Actually, it was very sexy: The Philadelphia Family Planning organization. 🙂 And yes alllll my women's health-related, body-positive material started there.
What were you like as a teen?
When you weren't the cutest girl in your pack, funny did come in handy… But I didn't really work at it til my late twenties when I started doing comedy.
On your deathbed, what transcendent advice would you croak at a young comedian?
Stay away from TikTok. It's fattening you up to eat you. But also: don't read comments. The good ones make you narcissistic and the bad ones … make you narcissistic.
When you were coming up in comedy, what helped you stick with it?
My co-actors in Broad Comedy. And my co-writer/hubby Soren Kisiel. I like co-things. I'm really a theatre kid at heart.
How has being funny helped you in your offstage life, either recently or when you were younger?
Helped?? Um let's talk about how it gets me into trouble…. Kidding. Well not kidding but it def helps diffuse difficult situations. And keeps me from becoming a monk and dropping out of life. Keeps my perspective on what's important or not.
What is your go-to show or movie to watch when you have had a bad day? 
If I say Ted Lasso will you still want to interview me? I'm sorry but it's Ted Lasso no matter how obvious and unoriginal that is. Me + Ted = Not homicidal when I read the paper. He's like the clear nail polish you put down to protect your nails before the red polish.
What specific things can a young comedian do to shape their voice? 
Ask why you're doing this? Do NOT be afraid to state your opinions politically. Just say them. But ya know, in a funny way. And I'm your voice: Be honest. Be honest. Be honest.
Was there one person who inspired you to go into comedy? If so: Who, why, how?
I met Tom Lehrer when I was a little girl at a dinner with my Mom. That clinched it. I listened to his record endlessly.
Do you have a writing routine? If so, what is it?
Yes. It goes something like: "DUDE YOU HAVE A FUCKING NEW SHOW IN 3 WEEKS SO SIT YOUR ASS DOWN AND WRITE YOU PIECE OF SHIT!!!" (In other words, give yourself the deadline of a show.)
What single word always cracks you up?
A sentence perhaps. After a tour we always jokingly turn to each other and say, "Well that was easy!"