Brittany Brave is a female astronaut in space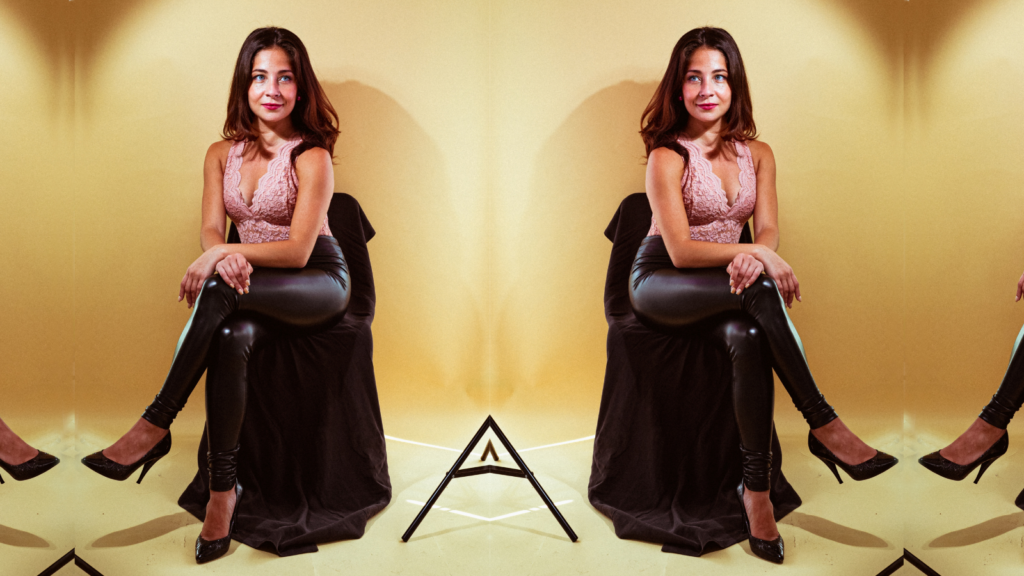 Brittany Brave is a NYC-via-Miami-based comedian, actress, writer, producer, and host who's been seen on TBS, MTV, Quibi, The Wendy Williams Show, SiriusXM, and featured in The New York Times, ELLE, Ashton Kutcher's A-Plus, and more. In 2021, Brave was named Best Comedian by the Miami New Times, in 2019, named one of NY's Best New Talents at the NY Comedy Festival and Caroline's on Broadway, and in 2017 an Emerging Talent by TBS Network. Brave recently won 92.9 The Point's Virtual Comedy Couch Competition and headlined Four Corners Comedy Festival in Durango, CO. She was also a featured comedic contributor in Jon Chattman's Moving Foreword, published alongside works by Darrell Hammond, Jerry Springer, and more.
Brittany also created Cat Call, (@wearecatcall) a platform for female events and conversation. The organization produces the podcast, Bad Women, a weekly show featuring interviews with females-to-know, and has partnered with Sofar Sounds, Deep Eddy Vodka, Bumble, Sassclass, and more. Brave is an active advocate for domestic violence awareness and gender equality and is a regular ambassador for 305 Fitness, Ladybox Boutique, Satifsyer.com. 
---
On your deathbed, what transcendent advice would you croak at a young (female/non-binary) comedian?
You need to be heard. Keep going.
Favorite response to a heckler or troll?
"This is less of a comedy show and more of a Town Hall meeting."
Can you describe your worst gig? (T-GOD you survived!)
I agreed to a "tomato show" without having the concept communicated to me. The concept, by the way, is that the audience gets handed tomatoes and gets to throw at them whether a comedian is bombing or killing.
There are also two prize winners for most and least tomatoes (arguably just the most reactive sets.)
I had to sign a waiver, got told what was happening 2 minutes from going on stage, and took a bullet spot (went first) with a 3-minute set. Went home and cried myself to sleep that night…. only to return to the same show two months later and come in second place. Turn the bad into good!
What were you like as a teen?
I was goofy and serious. I did drama and was the life of the party, but also was really wound uptight and worried about grades, career, my future, money, and all things that wouldn't be real issues until I was like 30, aka, RIGHT now.
I was cooler than people gave me credit for and still stuck in Ugly Duckling syndrome. The classic scenario of knowing that once I got a little bit older and wiser I'd hit my prime and blow the haters in the dust.
Best comedy advice you ever got?
Don't take any shit / don't ever let anyone tell you what to or not to do up there. There are always going to be people who hate the mere thought of women in comedy and refuse to meet you halfway with what you share, so you might as well use your time wisely and make it count for you.
Worst comedy advice you ever got?
It's all about laughs per minute / there's a way you do things and you gotta follow that path. Most real artists, icons, and philosophers carve their own lane and are therefore untouchable.
Favorite response to "What's it like to be a woman in comedy"?
Constantly wondering if astronauts have to answer "what's it like to be a male astronaut up in space"? Use the gender differences to your advantage — there's a whole other side of this human experience that needs to be shared to even the playing field. But work and carry yourself as a comedian, free of any other gender or bias.
How has being funny helped you in your offstage life, either recently or when you were younger?
Gaining on-stage confidence has forced me to accept myself in brand new, scary, bold ways off stage. The entire process of stand up is self-observant and society-observant and you only get good by getting brutally honest and astute. It's impossible to do this with any level of continuity without looking inward and learning more about yourself in the process. It kind of equips you with this thick skin for the outside world and all of its other bullshit.
When you were coming up in comedy, what helped you stick with it?
Knowing I loved this unconditionally and always felt drawn to it made me know I'd "make it" in some way, shape or form.
I was in it for the right reasons, felt comfortable on stage more than off stage, and had something I wanted to say so I was committed to thinking long-term artistry, not short-term satisfaction. I knew that the longer road would be harder, filled with more ups and downs but pay off because when the time was right I'd reach the people that need to hear me and in the right way.
Was there one person who inspired you to go into comedy? If so: Who, why, how?
Lucille Ball, Gilda Radner, Kristen Wiig, Tina Fey, Amy Poehler. They just looked on top of the world doing it and made girls look powerful, cool, and strong.
What single word always cracks you up?
Jabroni. I use it often, too.