21 Best TV Performances of 2021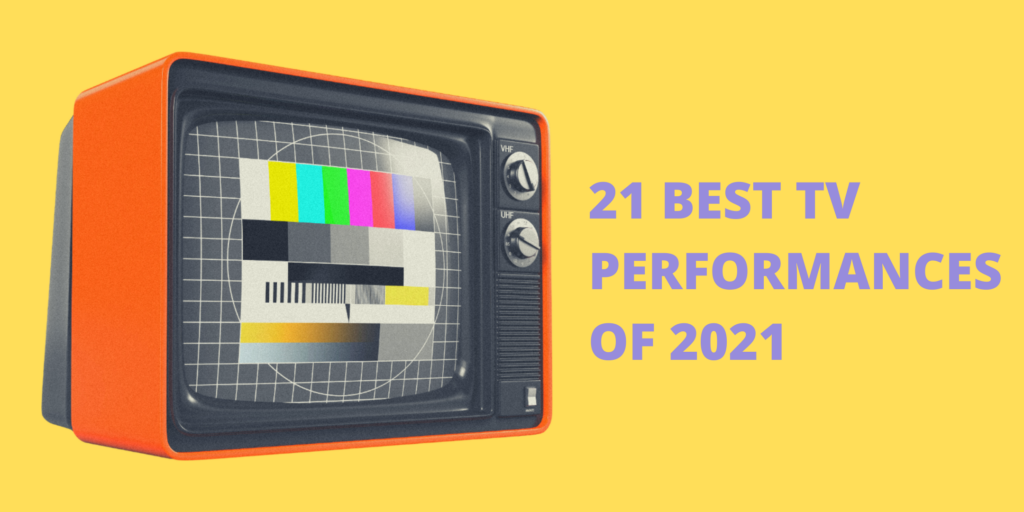 Ahhh… the 12 or 13th Golden Age of Television. What a blessing (not a Christian blessing, just like a chill magical one) that we live in this time!
In no particular order, but numbered nonetheless, here are the 21 best TV performances of 2021.
---
1. Natasia Demetriou as Nadja (of Antipaxos) in What We Do in the Shadows
Returning for her third season of the critically acclaimed What We Do in the Shadows, Natasia Demetriou took on more, better, than just about any other actor in TV this year. Don't believe me? Above is a clip of her arguing with the ghost of her formerly-human self, now possessing a giant inflatable rat (which will be very recognizable to all New Yorkers) to convince the ghost to return to the body of a doll and live with her forever. While arguing, she realizes that the ghost is just acting on feelings she's been hiding in her real, vampire, life.
I wasn't sure she'd ever top her performance in the season one arc of raising baby Jenna (Beanie Feldstein), but here she is. Season three Nadja has arrived, she's the boss, and she's not taking any of your shit, Nandor. – Maggie Scudder, @maggiescudder
---
2. Aidy Bryant as Annie Easton in Shrill
I've been a long-time Shrill watcher (by which I mean I've been watching it since season 1), and this is the most dynamic season thus far. Bryant's performance makes the viewer uncomfortable, as her character, Annie, contends with some of her White guilt and others' fatphobia. It's not for the faint of heart, to say the least. Watch it and be prepared to pause and journal and reflect. – Trina Sanyal, @TrinaSanyal
---
3. Jean Smart + Hannah Einbinder as Deborah Vance + Ava in Hacks
There are a few shows, one every couple of years, that feel like they were made for me. Hacks felt like that. At the beginning of 2021, I was super duper lost in my career. I had no guesses about how to get my comedy back on track and start making it work as, ya' know, work. That's where Deborah and Ava kind of both start this show.
The acting work that is done here….phew! It's like real acting acting. Jean Smart is a GD genius, and Hannah Einbinder makes keeping up with Smart look easy. The scenes of Deborah and Ava together, duking it out, are where the show really shines. – Maggie Scudder, @maggiescudder
---
4. Paulina Alexis as Willie Jack in Reservation Dogs
Let's get something straight, I've been saying "fuck" for years. I've been hearing other people say "fuck" for even longer. Still, when Paulina Alexis punctuates Willie Jack's lines with a soft "fuck"… It's world-ending. It's hilarious and weird and sad and completely right for this show. Reservation Dogs was the surprise of my year. It falls into the same strange category as many of my favorite shows (Broad City, Letter Kenny): hyper-specific, regional, and just a bit other-worldly.  Paulina Alexis does work that rises above genre, medium, and age in this show. And that is what makes it great. – Maggie Scudder, @maggiescudder
---
5. Amber Ruffin as host of The Amber Ruffin Show
Amber Ruffin is a beam of light. What a terrible, horrible, unbelievably difficult year to be doing late-night comedy. Yet, Amber showed up every single day with the jokes, the feels, and hosted with the very best of them. Well, friggin, done! Plus, the looks are no joke. We are LOVING the looks. – Maggie Scudder, @maggiescudder
---
6. Molly Shannon as Pat Dubek in The Other Two
Molly Shannon, I would follow you off a bridge, Beetlejuice-style. In the Other Two, Molly plays a very similar character to Joanne Mulcahey (her character in Other People, Chris Kelly's film). And in both, she shatters me. Molly provides Pat with so much honesty. She's a mom worth crying over. She's a mom worth rooting for. She's a woman on the brink of something terrible pretty much 100% of the time. – Maggie Scudder, @maggiescudder
---
7. Sandra Oh as Ji-Yoon in The Chair
Every funny show needs a strong backbone, a straight man (or woman) type at the center of the comedic chaos. In Netflix's The Chair, Sandra Oh plays this to perfection. Her character Ji-Yoon is the new chair of an Ivy League English Department, as well as a single mom, daughter to a widowed father, and love interest of a problematic professor.
As one thing goes wrong in her life after the next, Ji-Yoon is forced to face it all with a collegiate smile and the result is both heartbreaking and hilarious. Sandra Oh has always been the queen of dry humor, but she also rocks this role because of her ability to react naturally.
Her performance is subtle, grounded, and full of heart. – Miranda Fayne, @mirmitthefrog
---
8. Kawennáhere Devery Jacobs as Elora Danan in Reservation Dogs
So much of the emotional stakes in this show rests on Elora Danan's shoulders. Kawennáhere's responsibilities are not unlike those of her character. Both are young but sad and wise beyond their years. The simplest version of this review describes how funny she is with her uncle and the basketball coach. But, the fact is that her performance rises so much higher than the brevity Elora has to show to the world.
Elora is trapped. Trapped on the res, trapped in a loop of remembering the worst moments of her life. I have been there, reeling from the loss of a friend. A loss too early and too intense for me to comprehend in my teen brain.
I feel for Elora and her friends in a way that I have locked away for so many years. Kawennáhere is the heart of this incredible show. – Maggie Scudder, @maggiescudder
---
9. Ego Nwodim on SNL
Ego!!!! SNL is her world and we're all just laughing at it. With the absence of Kate for much of the season, SNL's newer(ish) cast members had room to show off. But no one rose to the occasion quite as much as Ego Nwodim. It's nothing entirely new. Ego has been a shiny beam of light for several seasons. But, this season she shone in ways that are simply impossible to deny. Watch SNL just for her, and you won't be disappointed. Watch it for the Goodnights when she and Bowen hug and stuff, and you DOUBLE won't be disappointed. – Maggie Scudder, @maggiescudder
---
10. Melanie Scarfano as Wynonna Earp in Wynonna Earp
My love for this show and its band of weirdos cannot be denied. There are so many stand-out performances in this victory-lap season. But, Melanie delivers (as she always has) undeniable feels and rock-solid jokes. She does it all backward and in heels (or this case leather pants, with guns and swords and perfect hair).
Wynnona is grappling with a loss of identity, the changing relationship with her finally-chosen sister, love (!!!!), realizing that the good she's done is more "eh" than pure thumbs-up and the idea of finally being a mother. It's totally nuts that there's an actor doing all this while also talking about dicks and shooting an old-fashioned handgun. Let's put her in a hundred movies, she's a star. – Maggie Scudder, @maggiescudder
---
11. Selena Gomez as host of Selena + Chef
Selena, Selena, Selena. Her kitchen is tight. Her knives are sharp. Her production values? On point. Now, all we need is a little fun–and she provides.
Watching a famous and rich person do something badly will always work. My favorite moment is when Selena casually mentions calling a friend and it's Taylor Swift on facetime and Roy Choi gets his daughter back so fast to meet her. Precious. Also when Selena gets flustered because hot guys keep calling her!!
Once my friend in Middle School who was a compulsive liar said that he met Selena on Myspace and would regularly video chat with her until they both fell asleep. This show makes me think maybe he was onto something. – Maggie Scudder, @maggiescudder
---
12. Heléne Yorke as Brooke Dubek in The Other Two
Brooke is a goddamn shit show. Even when she's on top of the world, she got there on a ladder made of shit. She's a relic of 90s NY gay hag-dom, despite being young enough to have a choice in the matter. This season sees her chase (pun!) success, love, and balance. I care so deeply for this bad person!! – Maggie Scudder, @maggiescudder
---
13. Jennifer Coolidge as Tanya McQuoid in White Lotus
I did not love White Lotus! It made me sad, not fun-sad! I thought the ending was the one before the twist…but there was no twist! Just the ending!
But I WATCHED it to the end, obviously, because I love that Jennifer Coolidge. Coolidge brings her familiar loopy, always-a-little-OFF touch to the loaded, grieving Tanya, but—even when she's manipulating others—the light of her sincerity is always on. Plot twist: If Coolidge is in it, I'll watch the sequel. – Lynn Harris, @harrislynn
---
14. Maya Erskine + Anna Konkle as Maya Ishii-Peters + Anna Kone in PEN15
Never thought it was possible for two adults to be even more convincing as middle schoolers than actual middle schoolers themselves, but Maya Erskine and Anna Konkle's performances proved me otherwise. The heartbreak, the harrow, the embarrassment of being 13, not quite a child, and not quite a teenager, is almost too much to bear at certain points. But I loved it.
Something about seeing squids thrown at an enemy by a group of scraggly (some real some not) middle schoolers spoke to the part of me that is still stuck in middle school. And boy was it healing. This show is made for the misfit (who has maybe grown out of it cough cough but also maybe not). – Trina Sanyal, @TrinaSanyal
---
15. Cecily Strong as Melissa Gimble in Schmigadoon!
This show is a veritable romp of whimsy and talent. Cecily could've been Carole Burnett, I think. And in this show, she proves it. She song-sings and sing-songs with the very best of them. Not enough people were talking about this show. Cecily outperforms just about every "regular" TV actor because she can also SING and DANCE while arguing with her boyfriend!! – Maggie Scudder, @maggiescudder
---
16. Renée Elise Goldsbury as Wickie in Girls5Eva
This show is not an HBO prestige drama. You will not have to share your opinions with anyone on "who the killer was," or "what the deeper meaning was behind the choice to make the bedsheets blue." No. You will walk away from this show with a simple little cache of positive and humorous scenes to look back on in your downtimes, as well as an album of genuinely incredibly catchy and amusing songs.
Wickie is written as a classic has been, a classique screw-up. Most notably, Wickie accidentally gets into a relationship with twin boys from Gen Z elaborately tricking her into dating them both – something she doesn't pick up on because she is apparently so narcissistic. The boys together call themselves 'Cray,' and when asked by Sara Bareilles where she met a person with such a name, Wickie responds, "At the Instagram wall in the vape lounge at the sriracha museum," then takes a slurp out of a children's applesauce pack. Iconic. – Tessa Abedon, @abedon_tessa
---
17. Elizabeth Olsen as Wanda in Wanda Vision
Ef, y'all. Elizabeth Olsen HONESTLY may get all my award picks this year. She does so much WORK in Wanda Vision. She's carrying cinema on her shoulders, and immense grief and she puts all that tight behind her eyes and lifts her chin up, and does incredible sitcom acting.
She's Lucy, she's Claire Dunphey, she's everyone. Also, and this isn't relevant so much, she's, like, SO hot and I'm in love with her. – Maggie Scudder, @maggiescudder
---
18. Ziwe Fumodoh as host of Ziwe
One of the best things to come out of 2021 was the release of the talk show "Ziwe" featuring Ziwe Fumodoh — giving us the best that 2021 had to offer (and let's be honest 2021 has put us through the RINGER).
Though the satire of the show is based on some of the worst current events to happen this year, something about Ziwe's interviewing style and sense of humor allows the audience some relief. Like yes, this is ridiculous, yes, we are still here, and yes, I can't believe I have to put up with this shit. But at least Ziwe thinks it's ridiculous too.
Not to mention her incredible rise through the Twitter/Instagram sphere; something about it is so brilliant: her going from Instagram Lives with celebrities to doing the same thing, but this time with a Showtime budget (literally, the show is on "Showtime" like the network).
Huge kudos to Ziwe, I'm so glad she's here (on this planet and on this list). – Trina Sanyal, @TrinaSanyal
---
19. Maitreyi Ramakrishnan as Devi in Never Have I Ever
Worst decision-maker in the world. So, yeah, I mean it when I say she is my representation in more ways than one. Yes, she's a young South Asian person gracing the screen, and ALSO wreaking havoc in everyone's life. Watch the show at your own risk, and keep Pepto Bismol handy. Maitreyi Ramakrishnan's performance of Devi is so good, it will make your stomach hurt. – Trina Sanyal, @TrinaSanyal
---
20. Kabrina "Moonbear" Adams as Honeybear on Betty
Fit check: Bike chain necklace, hair wrap, camera, skateboard, open shirt, pasties. Meet the artistic, quiet-but-strong Honeybear on HBO's skater girl comedy/drama Betty (and its precursor, Skate Kitchen), played by Kabrina "Moonbear" Adams, whose messages of body positivity resonate on and off the show. As she told Refinery29: "​​People have messaged me about how they're able to be comfortable with themselves and their sexuality and other aspects of life because they saw me in the Skate Kitchen." – Lynn Harris, @harrislynn
---
21. Hannah Windingham + Juno Temple as Rebecca + Keeley Jones in Ted Lasso
What a pair. Name a more iconic duo. Third aphorism about two people. Rebecca and Keeley make my heart sing. While Nate's storyline was making me want to die, Keelbecca kept me in it. I think we're living in a golden age for friends…platonic life partners are being embraced on TikTok, we're living in a post-Broad City age. Rebecca and Keeley deserve to be immortalized next to the Abbi and Ilanas, the Maya and Annas, the Bella and Jacobs (lol jk). – Maggie Scudder, @maggiescudder
---
Do you agree with our hottest takes? Let us know by tweet @GOLDcomedy.